Airport Tips
Published February 18 2022
Travel 4 Baby's handy airport and flying tips
Traveling with an infant can be a stressful thought. Here at Travel 4 Baby, we understand and we have got you covered.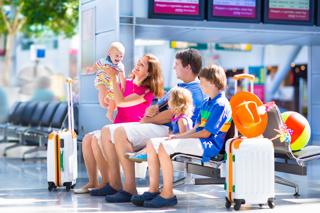 Preparation is key!
Before you even begin to travel, make sure you pack your hand luggage well. Important things to have with you when flying with infants are:
Nappies plus extra in case of a delay
Wipes and disposable bags
A dummy or bottle to suck on during take off and landing (can help with ear pressure)
Baby paracetamol (in case your infant is in pain)
A blanket (baby can lay on this at the airport if there isn't a specific baby zone)
A change of clothes for you and your baby… just in case of those little accidents!!
A new toy, Ipad game or similar to keep them occupied during the flight
Snacks for you and your little ones (more than you need just in case)
You can take liquids under 100ml in a clear plastic bag. (Have this separate along with electrical devices, etc as they need to go through security separately. If you have them separate it will be less stressful at security).
Water for making up bottles and pre pumped breast milk is allowed through security over the 100ml limit, just make it clear when you arrive at airport security. (Airport and airline staff will be happy to heat up bottles of water for you. Airport canteens will also provide hot water if you need it once through security).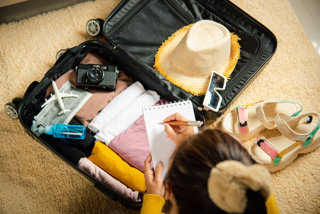 At the airport
Try getting to the airport nice and early so you don't feel rushed as you don't want any unnecessary stress.
Many airports have some kind of security fast track system in place for people traveling with young children so this should help a lot. Always remember, if you are taking your buggy all the way up to the aircraft, your baby must be taken out of the buggy to pass through security.
There are often specific soft play areas inside airports for young children so keep an eye out for these.
If there is a Boots Pharmacy in the departure lounge, you can pre order baby food and formula in advance before you travel, this can save hassle of bringing food with you for the plane and holiday, it can then be collected once you have passed through security (Always check you select the correct shop in departures and not the pre departures store).
Travel 4 Baby's top tips
On the plane, babies under 2 years old can sit on your knee or some airlines let you book and pay for an extra seat for more space and comfort
Change your babies nappy or take them to the toilet just before you board the aircraft
Try keep them awake at the airport so they will sleep on the plane (fingers crossed!)
Feed them when you get on the plane rather than before. The combination of feeding and the rocking and noise of the plane, will often send your baby to sleep.
Take extra formula, snacks, nappies etc just in case of a delay.
Always remember, if you don't want to be traveling with too much luggage and baby items, check with us before you travel as most baby items can be hired and delivered to you in resort. Travel 4 baby has everything you will need and the less luggage you have to bring the better.