Car Seats in Spain
Published February 18 2022
All you need to know about child car seats in Spain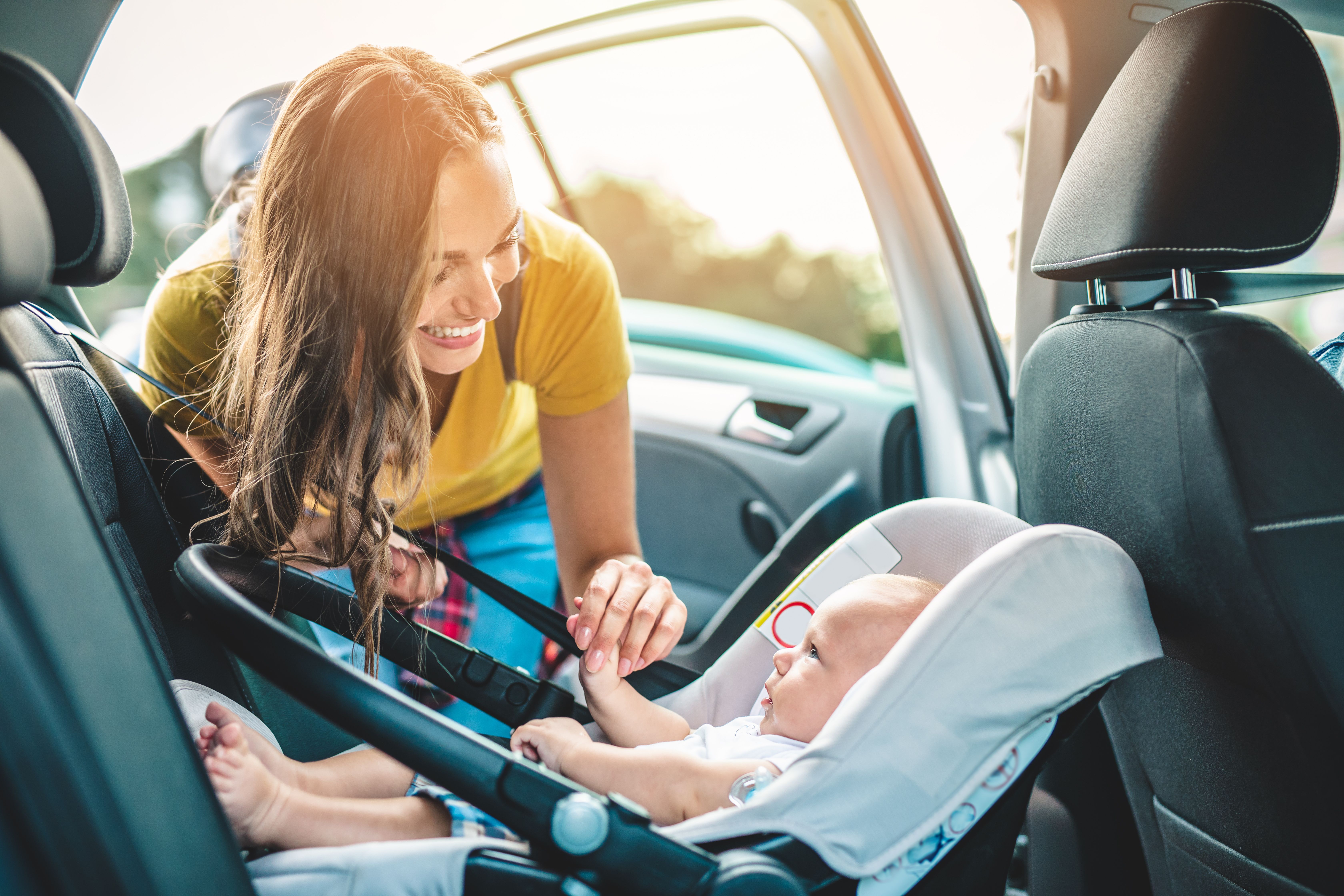 Who needs a car seat?
Children under 12 years old need a car seat unless they are over 135cm tall. The seat must be fitted in the back of the car.
The only exceptions are if there are no seats in the back of the car or if the back seats are all taken by children already in car seats. In this case the car seat can be fitted in the front of the car. Ensure the airbag is turned off!
What type of car seat does my child need?
From birth to 18kg, a rear facing car seat is recommended. Group 1 car seats are best for 12 months to 3.5 years and booster seats are advisable for bigger children up to 150cm tall.
All car seats must be UN R44/R129 approved. You will normally find that car seats have a white or orange sticker indicating the UN approval like below.
Here are the 5 groups of recommended car seats for your child:
Group 0 – up to 10kg – Birth to 9 months
Group 0+ – up to 13kg – Birth to 12 months
Group 1 – 9kg to 18kg – 9 months to 4 years
Group 2 – 15kg to 25kg – 4 years to 6 years
Group 3 – 22kg to 36kg – 6 years to 12 years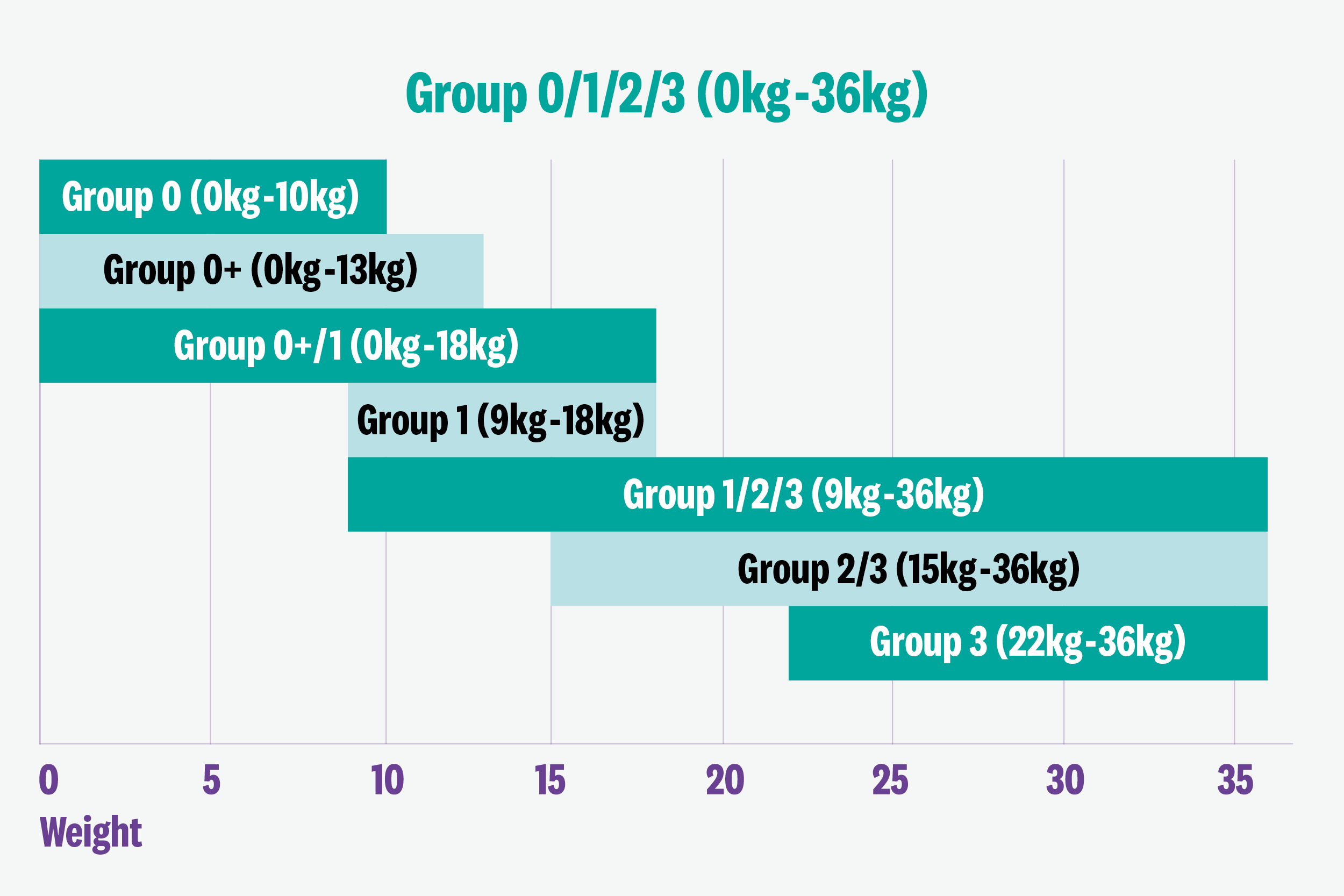 Travel 4 Baby have a wide range of safety guaranteed car seats available for hire. It is also often far cheaper to hire a car seat for the duration of your stay through us than it is for a few days with your hire car provider.
If you want to rent a car seat, please check our hire section to see our availability in your holiday destination. We may even be able to deliver it directly to the airport for you on arrival.
Birth to 18 months (0-13kg Max)
Babies from Birth to 18 months are strongly recommended to have a rear facing car seat.  These seats are seen as been five times safer than forward-facing car seats. All of our Group 0/0+ car seats are rear facing and can be used with or without isofix connections. Our group 1 car seats are available rear facing but are all connected with an isofix base.
18 Months to 4 years (13-18kg)
Babies from 18 months to children of 4 years old are recommended to use forward facing seats. With forward facing, you have the options of various Group 1 seats to suit your type of travel.
3 to 12 years (15kg – 36kg Max)
Once your child reaches this stage, you can still use the Group 1 car seats until your child reaches the maximum weight limit. If you prefer, at this point you can use a booster seat with a harness for a child weighing up to a maximum of 22kgs.
After 22kgs
your child will then require a standard booster seat. These boosters have options with or without Iso-fix connections. Both options are secured and your child is fastened in using the seatbelt in the car.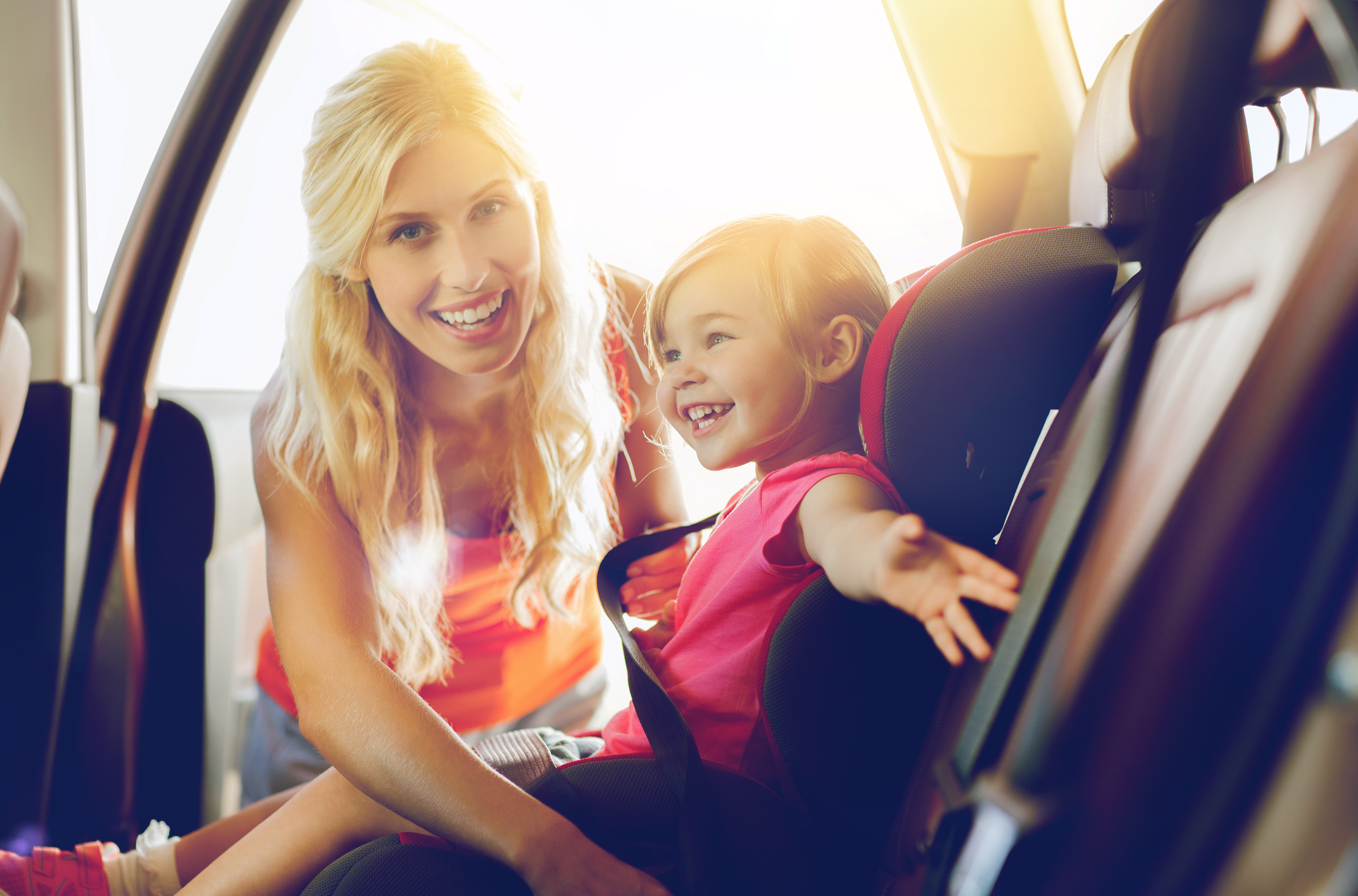 Taxi and transfers rules in Spain
Taxi laws are the same as those for a child in a rent a car. (Detailed above in the 'Who needs a car seat' section) .
You can however take a taxi transfer in urban areas without a child car seat. If the taxi is traveling through non-urban areas such as a motorway, a car seat is required.
Taxis and transfer companies do not have to supply car seats by law so we always recommend you check with your provider beforehand to see if they have one or not. The adult responsible for the child is in charge of supplying the car seat, so this means they will be liable for any convictions or fines received if laws are not followed.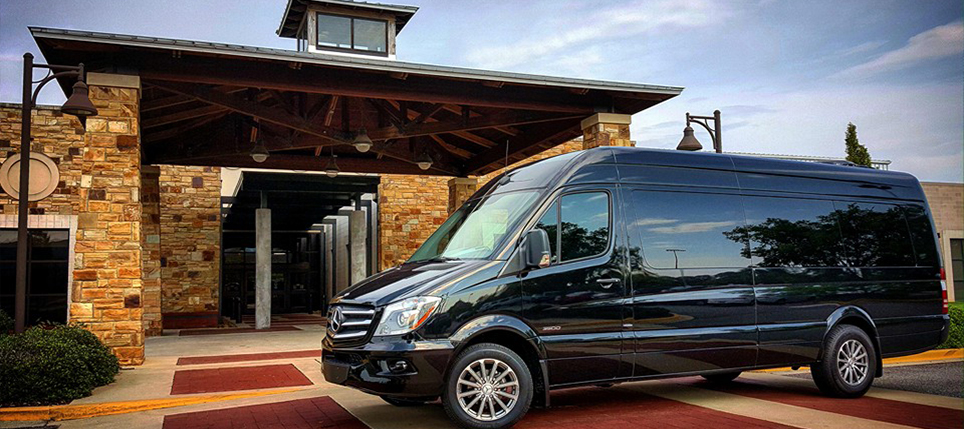 LOOK AT YOUR HOLIDAY DESTINATION ON TRAVEL 4 BABY FOR SAFE TRANSFER OPTIONS
Coaches
There are no specific laws regarding car seats on coaches in Spain.
Here is some tips and advice from us…
Keep a close eye on children when traveling by coach, you as their guardian are responsible for their safety
Children over 3 years old must use the seat belt on the bus or any other system the coach provides.
Coach seat belts may only have the 2 point system making car seats unusable on the coach.
For complete comfort and assurance, check with your coach provider before you travel to see if they meet your safety requirements. If not, you can look into other means of transport.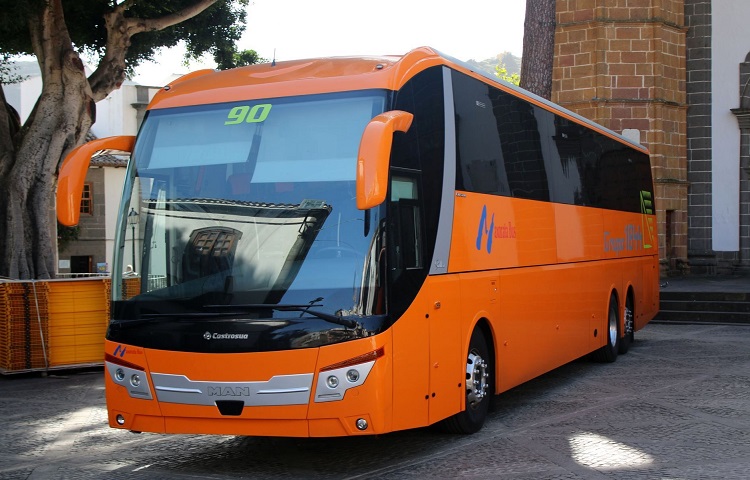 FOR PEACE OF MIND
Check out your destination page at Travel 4 Baby for our trusted transfer services that guarantee a safe and secure journey for you and your little one.