Mini Golf in Tenerife
Published February 24 2022
Mini Golf is often a holiday ritual for families and we are very lucky that here in Tenerife we have several exciting options.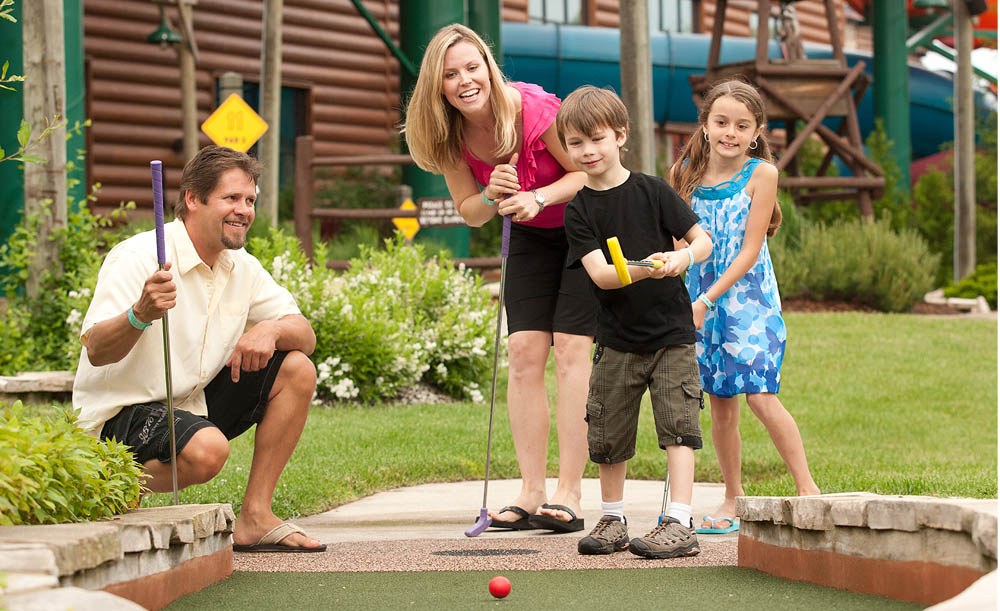 Vivo Mini Golf, Treasure Island
Playa de Las Americas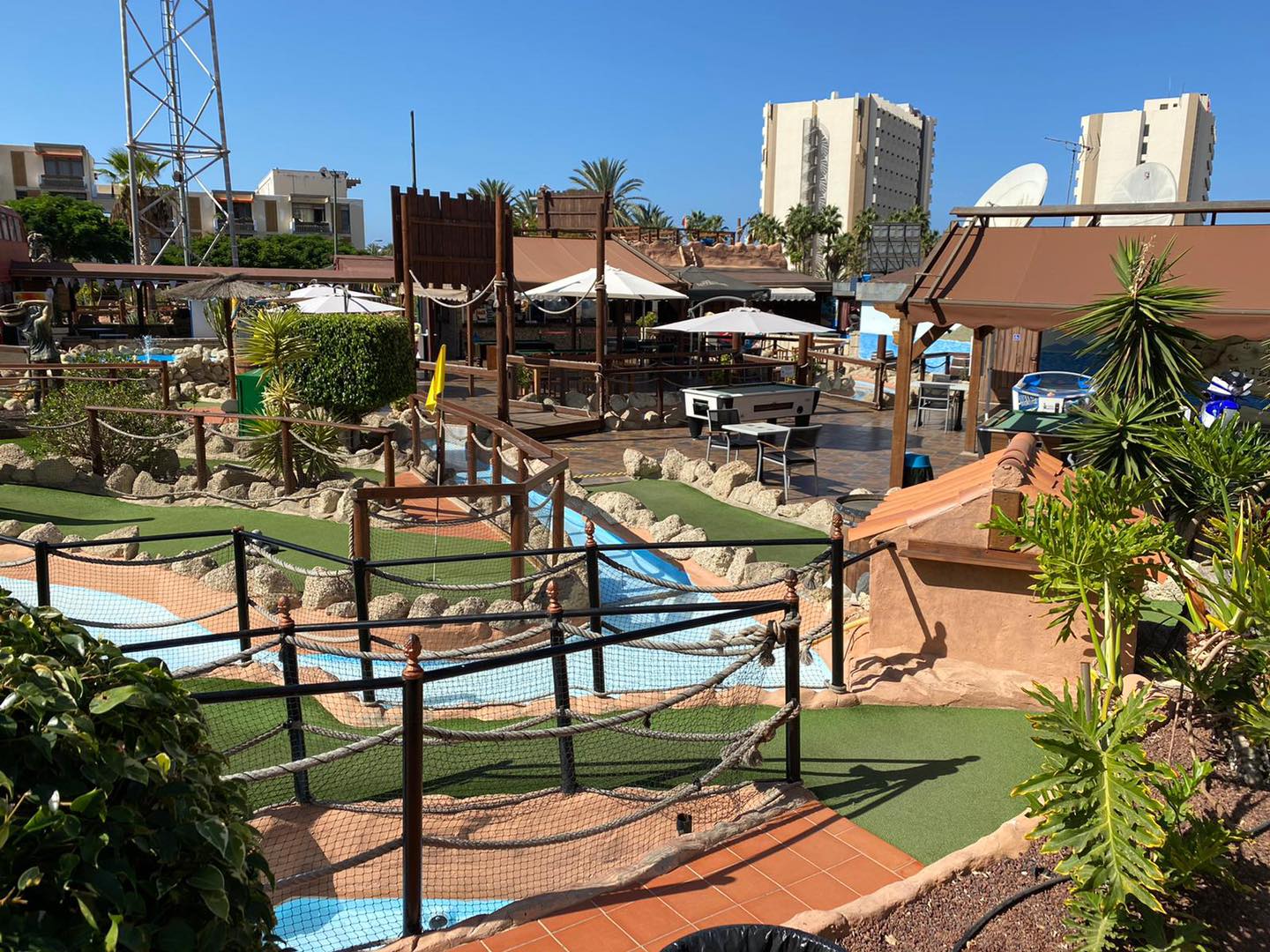 This is situated in Playa de Las Americas is definitely a family favorite here in Tenerife. This pirate themed adventure land includes two fun 18 hole miniature golf courses, a 5D thrill ride as well as a pool table and a bar serving snacks and drinks.
The golf courses are open 9am until midnight so you can go any time and you can choose between one course or two for a discounted price. They also supply small soft clubs for young children. It is ok for buggies too as there are ramps to access the mini golf and seats and tables under shade.
The 5D Virtual Ride is the first of its kind in Tenerife and you can choose from four different rides!
OPENING TIMES: 09:00 - 00:00 EVERYDAY
PRICES:
Pick 1 of their great Mini Golf Courses
Adult € 10.95
Child € 8.95
Play both of their 18 Hole Mini Golf Courses
Adult € 14.95
Child € 10.95
Parque Santiago Mini Golf
Safari Centre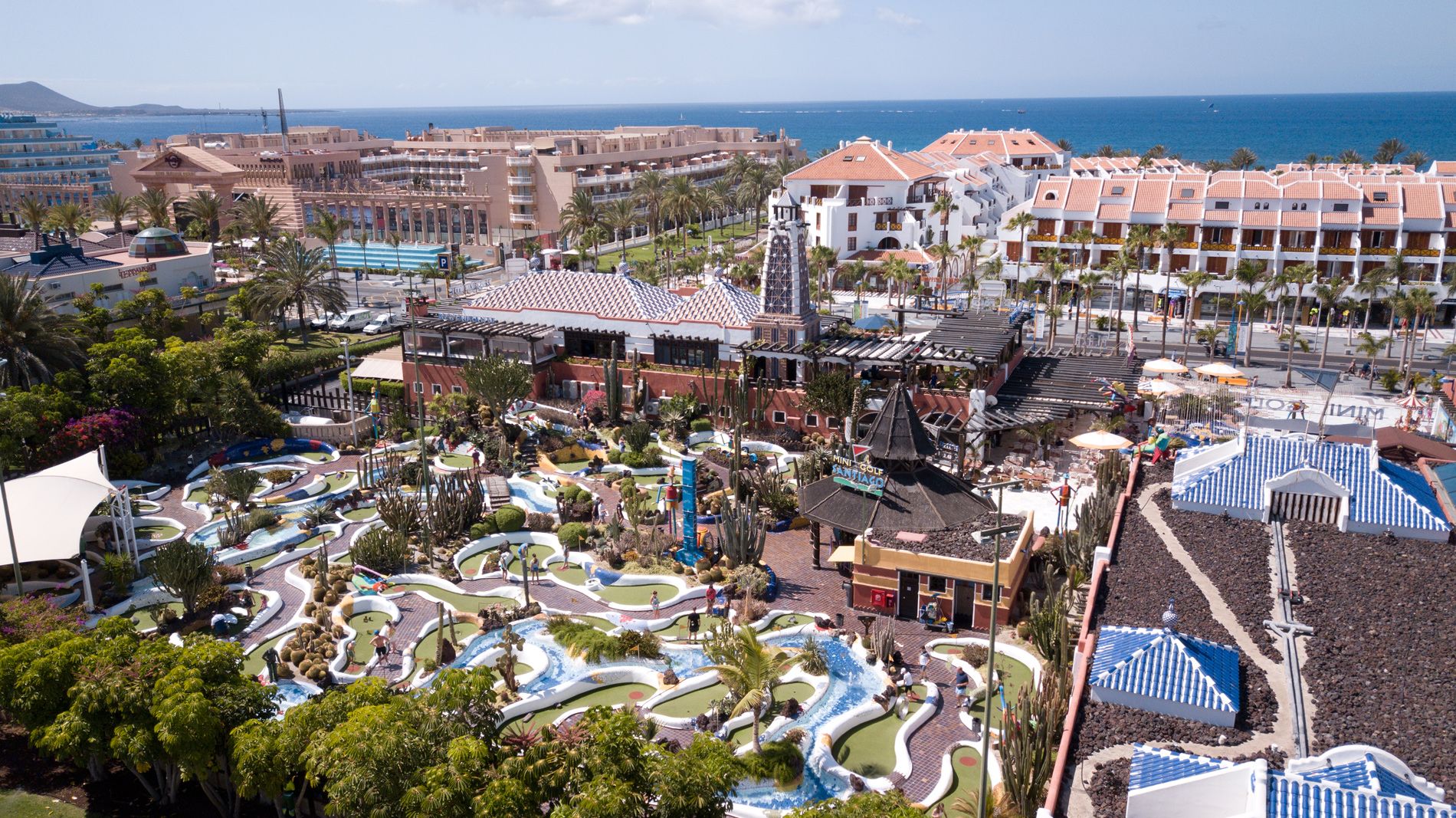 This is in the best location! It is in the beautiful area of Las Americas where you will find over half a mile of bars shops and restaurants. Some of the best restaurants in the South of Tenerife can be found here. The area is also very flat, perfect for young children and buggies. There is also a white, sandy beach called Playa Las Vistas close by. The impressive Piramide De Arona theatre and the famous Hard Rock Cafe are directly opposite the golf course. At night this area comes alive with a water fountain show that dances to lights and music.
The Golf course offers either 18 holes or a shorter 9 hole option and the course is open until midnight. The shops in this area are open until around 10pm and there is also a giant sweet shop too!
OPENING TIMES: 10:00 - 00:00 EVERYDAY
PRICES:
Oasis Mini Golf
Los Cristianos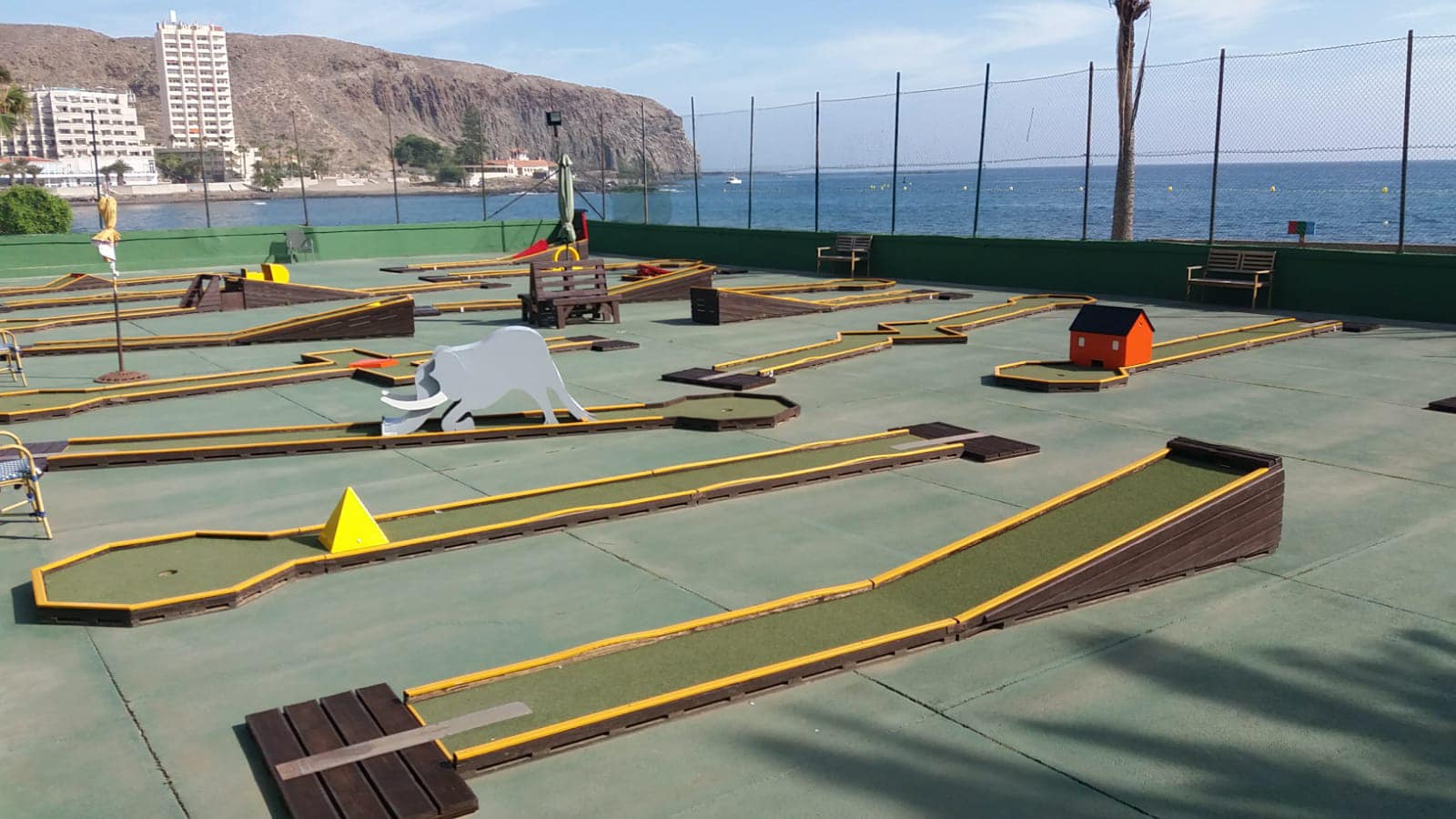 This Mini Golf is based on the seafront in Los Cristianos is small, cheap and cheerful.
It is perfect for young kids. The promenade is beautiful and it's easy to push a buggy around in this area. The prom is lined with ice cream shops, bars and restaurants. One of our favourite restaurants in this area is Chill Out restaurant. They do a great cheaper lunchtime menu that is perfect for families. The beaches in this area are beautiful too. Los Cristianos beach is quite well sheltered. There aren't any big waves making it perfect for little ones. There's a McDonald's nearby too!
If you carry on walking along the promenade you will find the stunning white sandy beaches of Las Vistas and El Camison too.
OPENING TIMES: 10:00 - 21:00 EVERYDAY
PRICES:
Fañabe Beach Mini Golf
Fañabe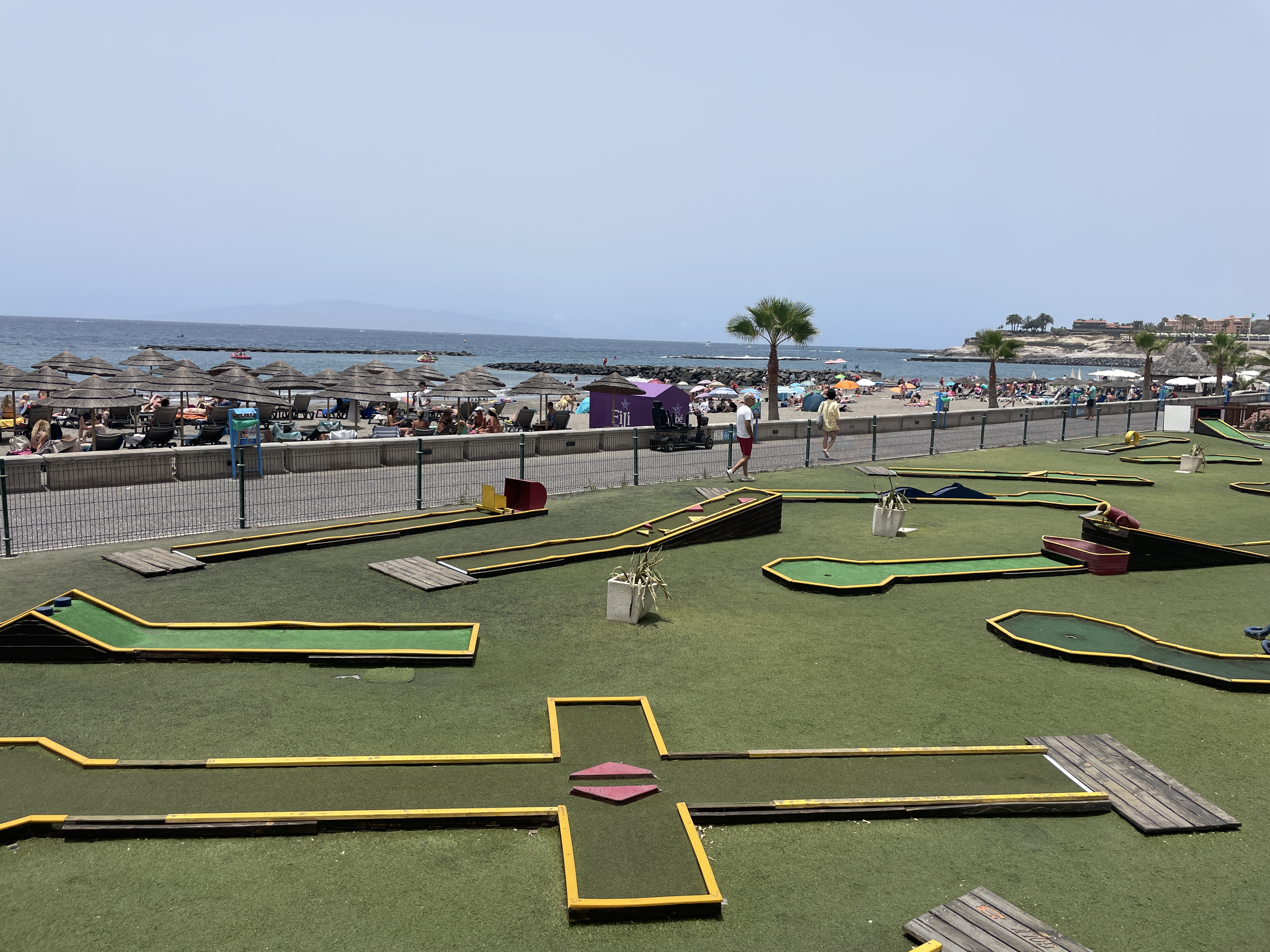 This is another smaller, less fancy course but again, it is directly on the seafront. The seafront is lined with bars shops and restaurants as well as a trampoline area and play park too. You can enjoy this area by day or night as everything is open until late and very well lit.
Some of our favourite family restaurants are on this promenade such as The Winchester, Limoncello Tony Romas. There's even a McDonalds and Burger King close by. Parking can be difficult in this area so we recommend paying to park in the underground car park or taking a taxi instead.
As an added bonus, there is even a 10 pin bowling Centre right next to the car park. Megabowl is open from 6pm everyday.
OPENING TIMES: 10:00 - 22:00 EVERYDAY
PRICES:
Mini Golf Tipsy Terrace
Los Gigantes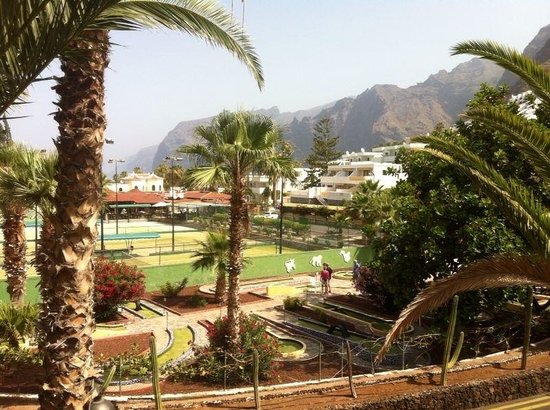 This is a small course next to the tennis courts and the Tipsy Terrace bar. The views from here are stunning. The food and drink is nice too! There are rock pools in this area as well so you could make a day of it and explore the area. The Marina of Los Gigantes offer short 1 hour boat trips to visit the stunning cliffs of Los Gigantes.
Make sure you keep your eyes peeled for the resident sting ray that lives down at the Marina.
OPENING TIMES: 09:00 - 20:00 EVERYDAY
PRICES:
The Mini Golf Club
Puerto de la Cruz
This Mini Golf area is a bar / restaurant that has a small mini golf course running through it. You can get fed and watered while the little ones play.
Puerto De La Cruz is also home to the famous Loro Parque.  This number one animal park is a must see for families visiting Tenerife. The Botanical Gardens in Puerto are also worth a visit as they are stunning, lush and green and most importantly, they have plenty of open space for the kids to run free.
OPENING TIMES: 12:00 - 00:00 EVERYDAY
PRICES: