Best Family Beaches in Tenerife
Published February 24 2022
Most of the beaches in the South of Tenerife are man-made and therefore tend to be very family friendly with shallow waters. The majority of beaches have lifeguards on duty and a flag system in place to ensure the sea is safe for swimming, for example, a green flag means the sea is at its safest.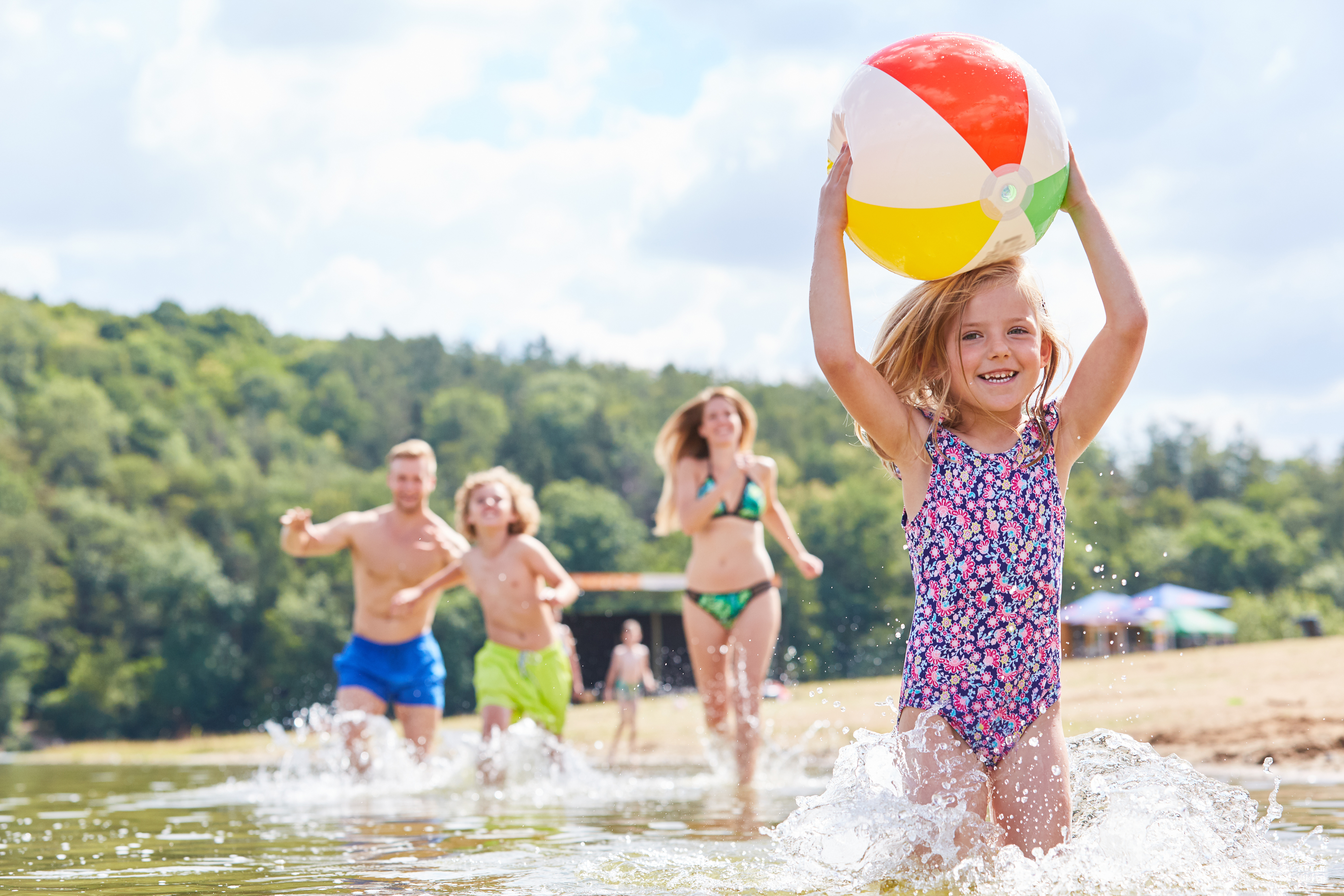 Preparation is key when heading to the beach with small children, especially with babies. Here are a few handy tips.
Take a pop up, UV tent, this will provide welcome shade for your little ones and it's easy to carry
A small paddling pool for babies- takes seconds to inflate, fill up with water and relax while baby splashes and plays
Take a big rug or light throw to lay on rather than several towels- less mess and easy to carry
Take water/snacks or even a cool box for the day
Apply a good layer of sun cream before you go to avoid the messy water/sun cream/sand combination when applying it at the beach
Beach shoes are advisable on most beaches in Tenerife.
TRAVEL 4 BABY TOP TIPS!
The best time of day for families to enjoy the beaches in Tenerife is after 4pm!
The sun isn't as intense making it the perfect temperature to relax
Always pull a buggy backwards on its back two wheels when on the sand. It's much easier!!!!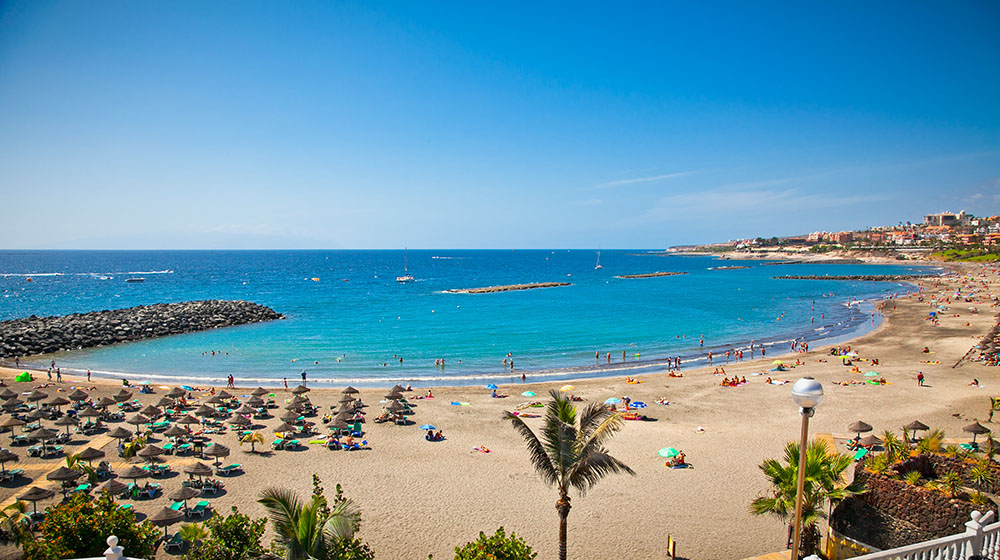 Playa Fañabe
Playa Fañabe is the main beach in Costa Adeje. Built into a cove, the water is shallow and the current doesn't tend to be rough.
The beach is long with white/black sand. Sun loungers and parasols are available for daily hire for around €15 a day, or you could try a Balinese bed for for around €60 a day at one of the local beach clubs. These beds normally include a certain amount of food and drink for the day in with the price and the beds are an ideal spot for kids to have a siesta.
The beach also has great water sports on offer such as banana boats, jet skis and parasailing.
As Playa Fañabe is in the middle of the tourist hotspot, parking can be a bit tricky. The easiest option is to pay for underground parking. There is a reasonably priced underground car park right by the beach.
The beach runs parallel to an amazing seafront promenade which includes several kids play parks, trampolines and a small miniature golf course.
There are an abundance of family friendly bars and restaurants along the promenade, making Playa Fañabe a number 1 choice for families in Tenerife.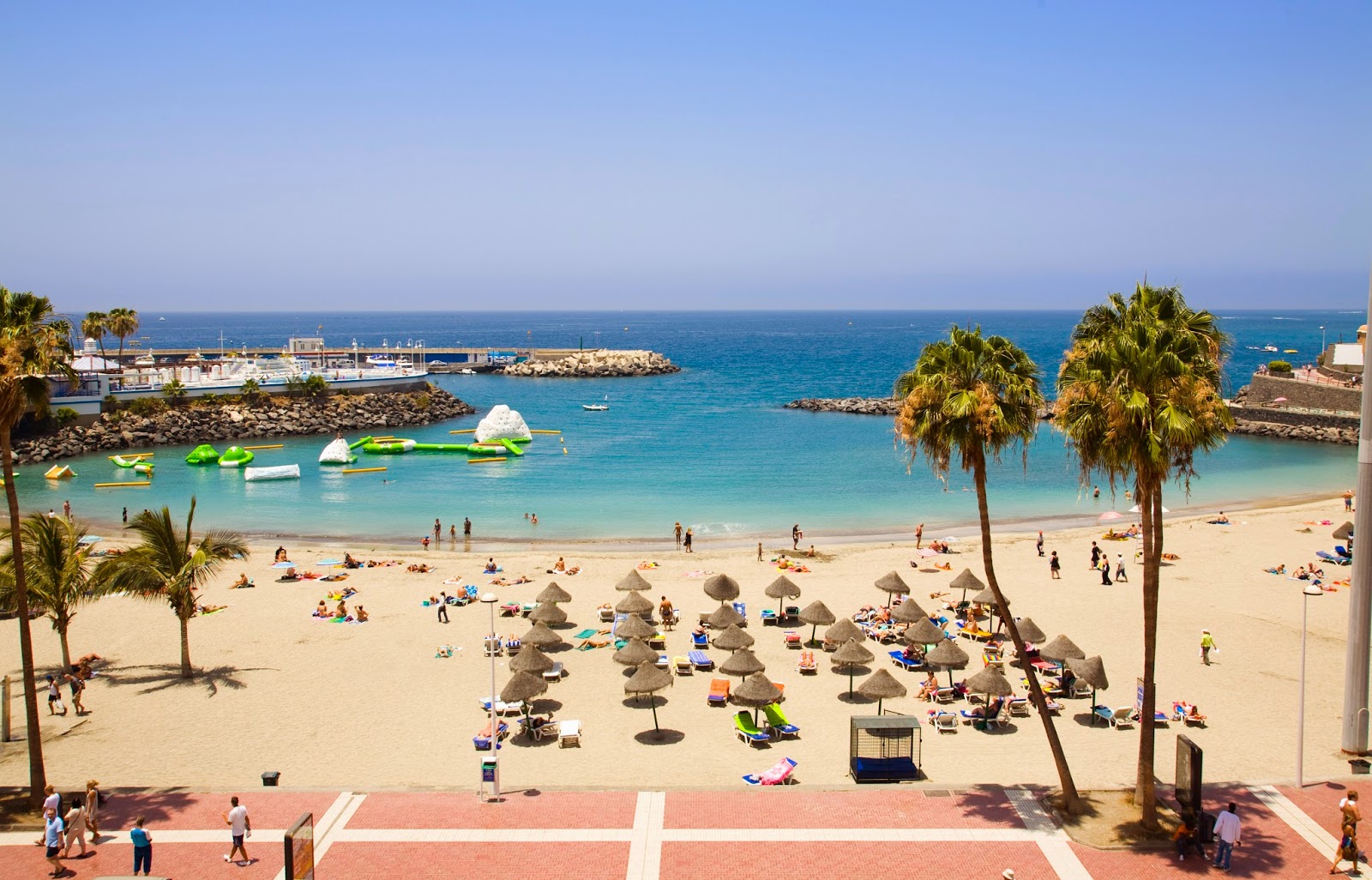 Puerto Colon Beach
This is a small beach right next to the marina of Puerto Colon. The beach is set in a man made cove so the water is very calm. The main attraction for families here are the giant inflatables in the ocean. It almost looks like a bouncy, obstacle course at sea. For around 10 euro person you can spend the day bouncing around or relaxing on the beach. Life jackets are provided but the inflatables are really only suitable for children age 6 and over.
Bars and restaurants line the beachfront as well as tourist shops galore.
There are several underground parking facilities in the area.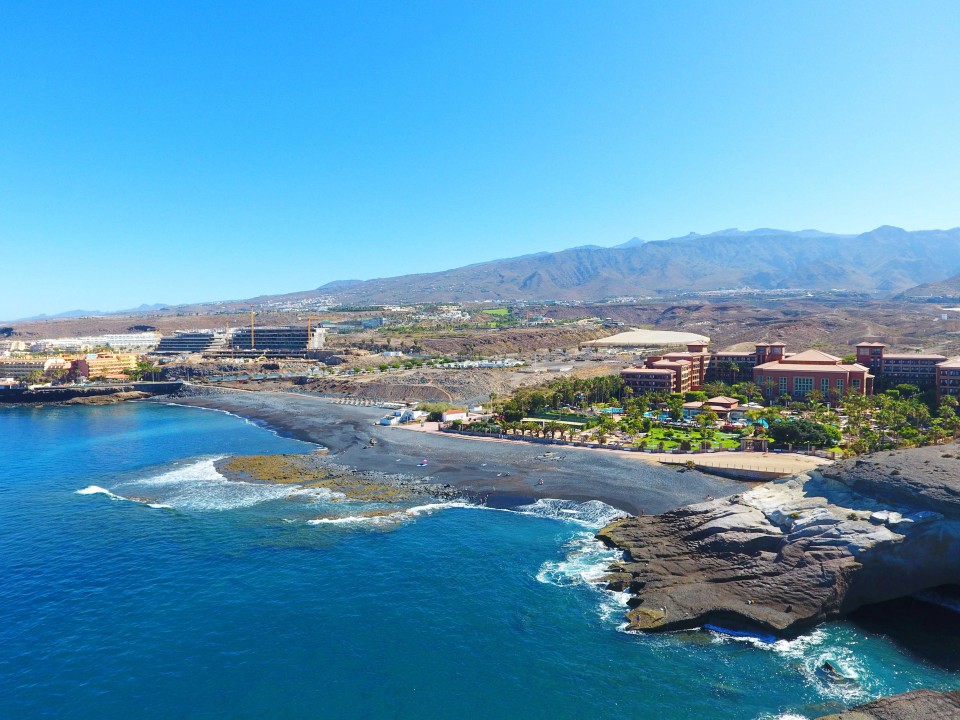 Playa de la Enramada (Located in La Caleta)
If you are looking for a traditional Spanish beach then look no further than the sleepy fishing village of La Caleta, situated at the far end of Costa Adeje.
Late afternoon/ early evening is a perfect time to visit this beach. The sunsets from here are incredible. There is one beach bar on the seafront serving food and drinks. Most evenings, around sunset, live musicians play relaxing music.
The beach is black sand and quite rocky so beach shoes are recommended. Children can spend hours skimming stones, hunting for crabs or watching the paragliders jumping from the mountains and landing right on the beach!
If you walk from the beach into the fishing village itself, you will find a small park amongst the quaint Tapas bars and fresh fish restaurants. The restaurants in this area come highly recommended.
Free parking is easily available near the beach in La Caleta.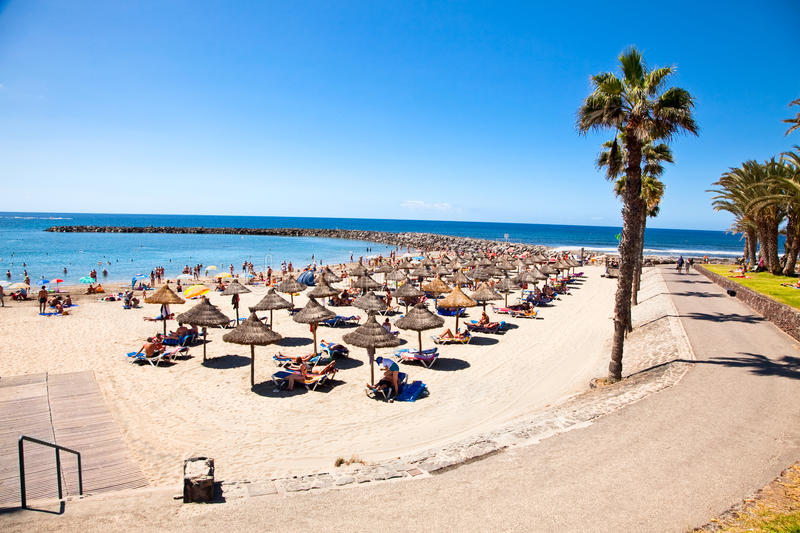 Playa Las Vistas
This beach is located right between Los Cristianos and Playa Las Americas and features stunning white sands imported from the Sahara Desert. The beach stretches for over 700 meters! With sun loungers, parasols and water sports on the beach this is a firm family favourite. The beach even has pedal boats for hire and has a giant inflatable park in the sea. All attractions can be purchased locally on the beach.
Playa Las Vistas has a number of popular bars and restaurants situated on its promenade and if you walk under a small tunnel, you are in the port of Los Cristianos, which is home to Pirate Ships, Giant sea Ferries and Jet Skis.
You can find free parking in this area, however it is often easier to park in the Port car park which is reasonably priced.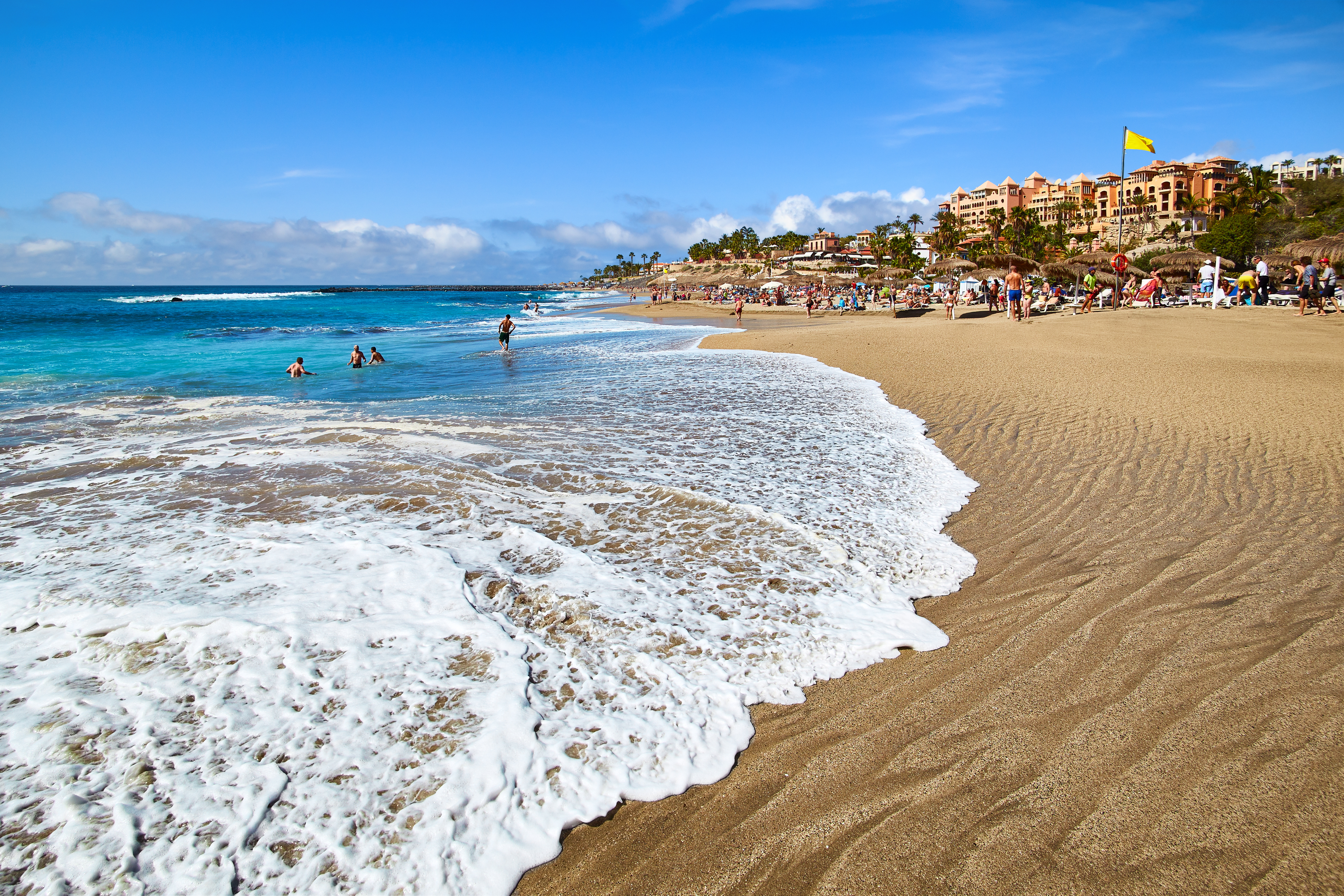 Playa Del Duque
The golden beach of El Duque is a high end paradise. The small man made cove means the water is shallow and calm. There are showers, toilets, sun-loungers and parasols on the seafront. Restaurants, bars and designer shopping centres are on the doorstep. Just keep in mind, prices here will be a little higher due the 5 star area it is located in.
This is a good beach to go to with babies. There is a grassy area next to the beach surrounded by palm trees offering plenty of 'free shade'.
The market car park at the top of the hill is a good place to find free parking, except for Thursday and Saturday. Another option is payable parking right next to the beach.
Worth Noting - This beach can experience high tides and big waves at times. If this happens while you are there, there is new beach directly to the right that is calmer and more sheltered.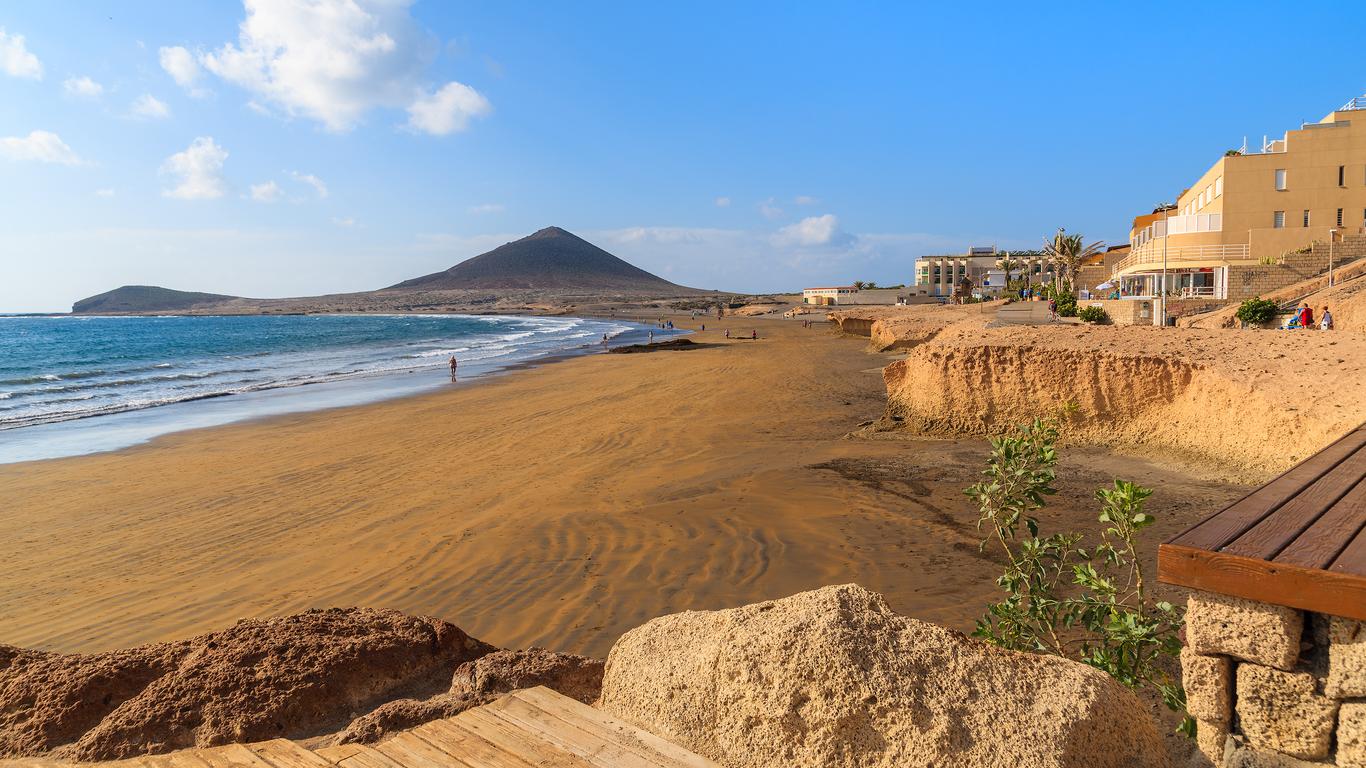 Playa El Medano
For something a little different, why not try the windsurfer's paradise El Medano. Located close to Tenerife South airport it is a traditional beach with great facilities for children. There is a park and a big square for children to run free. There are surfing lessons on offer and also kite surfing! The strong winds in El Medano mean that it is recommended to take some form of windbreaker if you are spending the day on the beach.
Nice bars, shops and restaurants reside along the promenade. There is also a good selection of shops hidden along the back streets of El Medano and often the further back from the seafront you go, the easier you will find it to park.
Medano is popular hotspot for locals in Tenerife, so you are best to avoid bank holidays and weekends if you are looking for a quieter family day.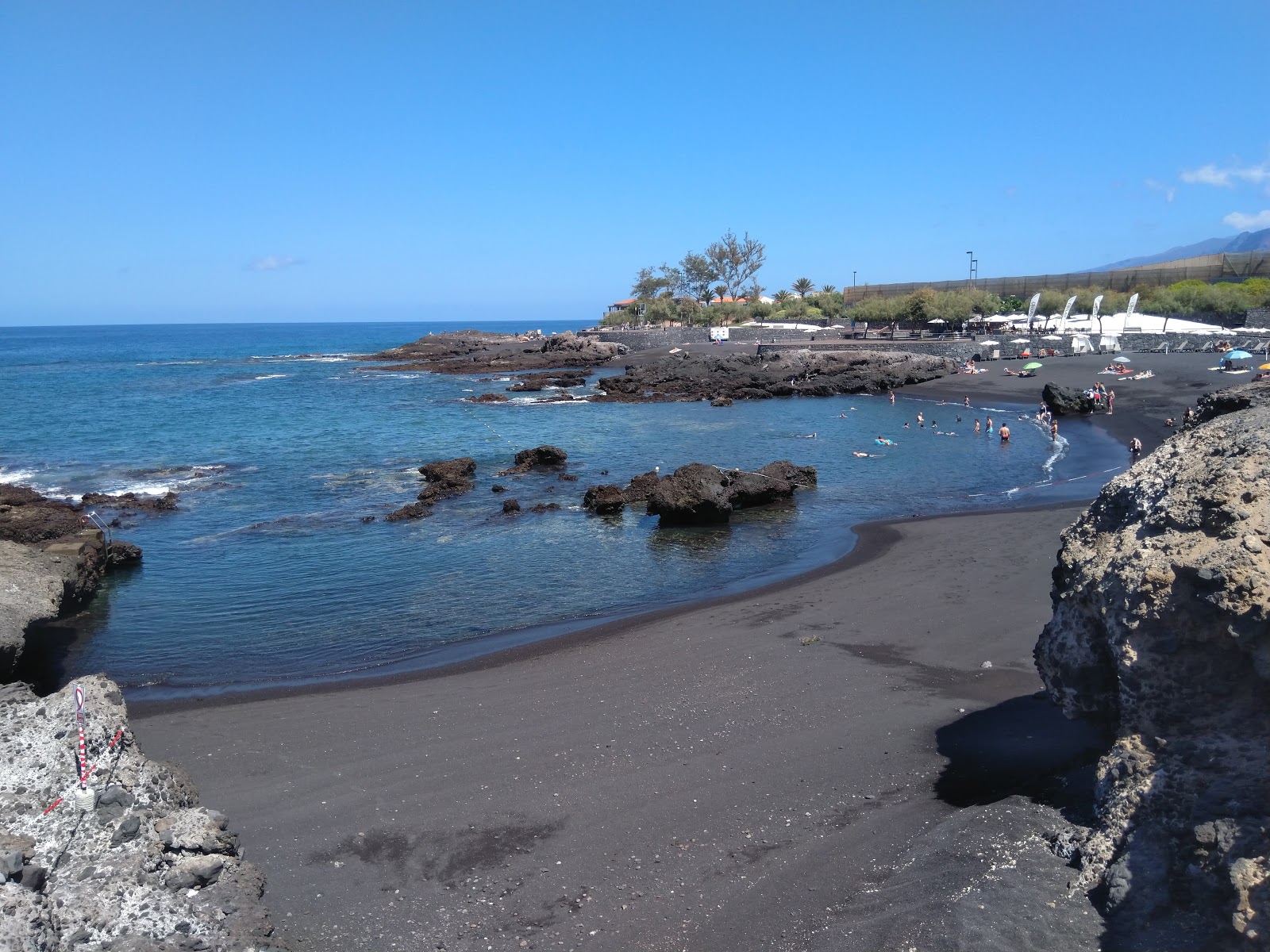 Playa La Jaquita (Alcala)
Alcala is a small Canarian village with a beautiful seafront promenade on the West Coast of Tenerife. The beach is made up of three small sandy beaches and natural rock pools for swimming. Beach shoes are essential when swimming in areas such as this. There are sun beds for hire along with showers and toilet and baby changing facilities. The promenade has a large park, football pitches and basketball courts, to keep the whole family entertained.
With a few bars, shops and restaurants, there is plenty in this traditional village to keep busy.
The area is popular with locals, so if you stick to a weekday, parking will be easier. Monday is also market day in Alcala, but only in the morning.
You can even walk from Alcala to the next resort of Playa La Arena on the new quiet promenade.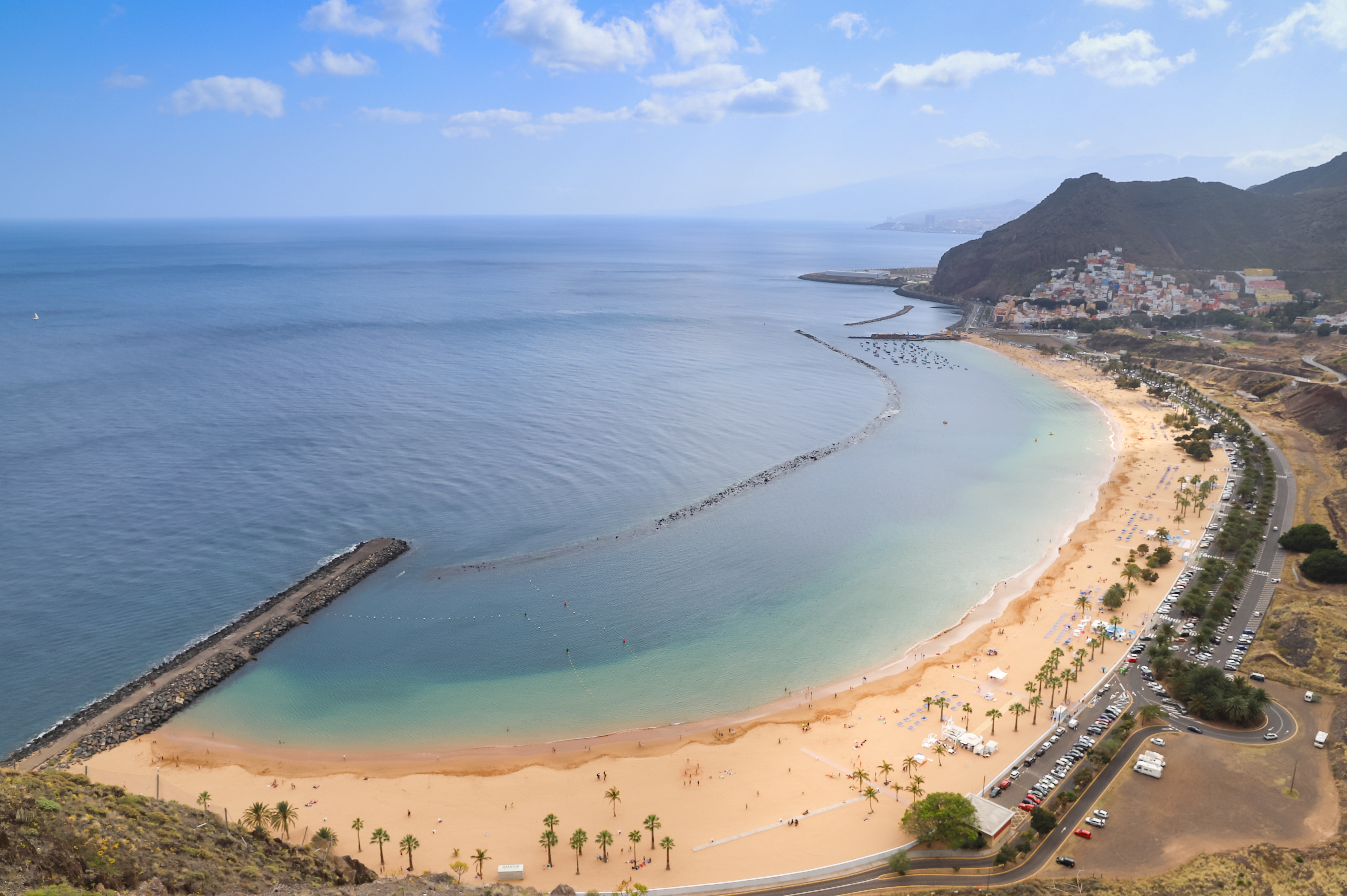 Playa Las Teresitas
If you find yourself in the capital of Santa Cruz for the day, a visit to Las Teresitas beach is a must.
The natural, golden sandy beach is breathtaking with palm trees running alongside the promenade. The sea is calm due to the breakwaters that have been built there so it is an ideal choice for families.
Toilets, showers and easy parking also add to the appeal. The sand is blown onto Teresitas beach directly from the Sahara desert, making it the one and only natural white sandy beach on the Island.
We hope these beach tips assist in you choosing the right beach for you and your family.