What to do in Sevilla for the best family trip
Published April 19 2023
"Sevilla tiene un color especial" is a common saying in Spain that means "Sevila has a special colour". We couldn't agree more and surely you and your family will agree! Sevilla has a unique atmosphere and feeling from the rest of Spain and it's definitely one of the best locations within the country to spend your family holidays.
But before getting into the special colours of Sevilla, here are some Travel 4 baby tips to make your trip go smoothly:
There are many historic buildings and some of them have an entrance fee. Check the ones you want to visit before your trip to be aware of the cost of each. Also, if you book them online you will ensure you don't miss out on the experience and sometimes the prices are cheaper as well.
Don't get too tight up in visiting every single building, cathedral and so on. You will get to see the magic of the city just by walking through its streets, seeing the locals walking around and stumbling across street flamenco performances.
As the city is in the south of Spain, is one of the places with the highest heat. For that reason, we recommend you prepare accordingly: sunscreen, sunglasses, carry your water to stay hydrated, etc.
Real Alcázar (Royal Alcazar)
Definitely one of the most iconic buildings in Sevilla, with history running through its foundations. Built in the 10th century, it was where one of Spain's king lived and it even appears in Game of Thrones! There are several architectural styles combined, making it a very unique building and art on itself. There are many palaces, yards and room within the Royal Alcazar and one of our favourites is the Patio de las Muñecas or Dolls Yard; it's said that if you find all nine doll faces carved along the columns of the yard it will bring you good luck!
The general entrance ticket is 13.50€, 20€ if you combine it with Palacio Alto (High Palace) – to visit only Palacio Alto you will need a different ticket.
Travel 4 baby top tip: if you come before the 30th of June, the prices to visit the Real Alcazar are cheaper and free on Mondays. It's one of the 10 most visited monuments of Spain, so we recommend you book a guided visit or buy the ticket online to make sure they don't sell out.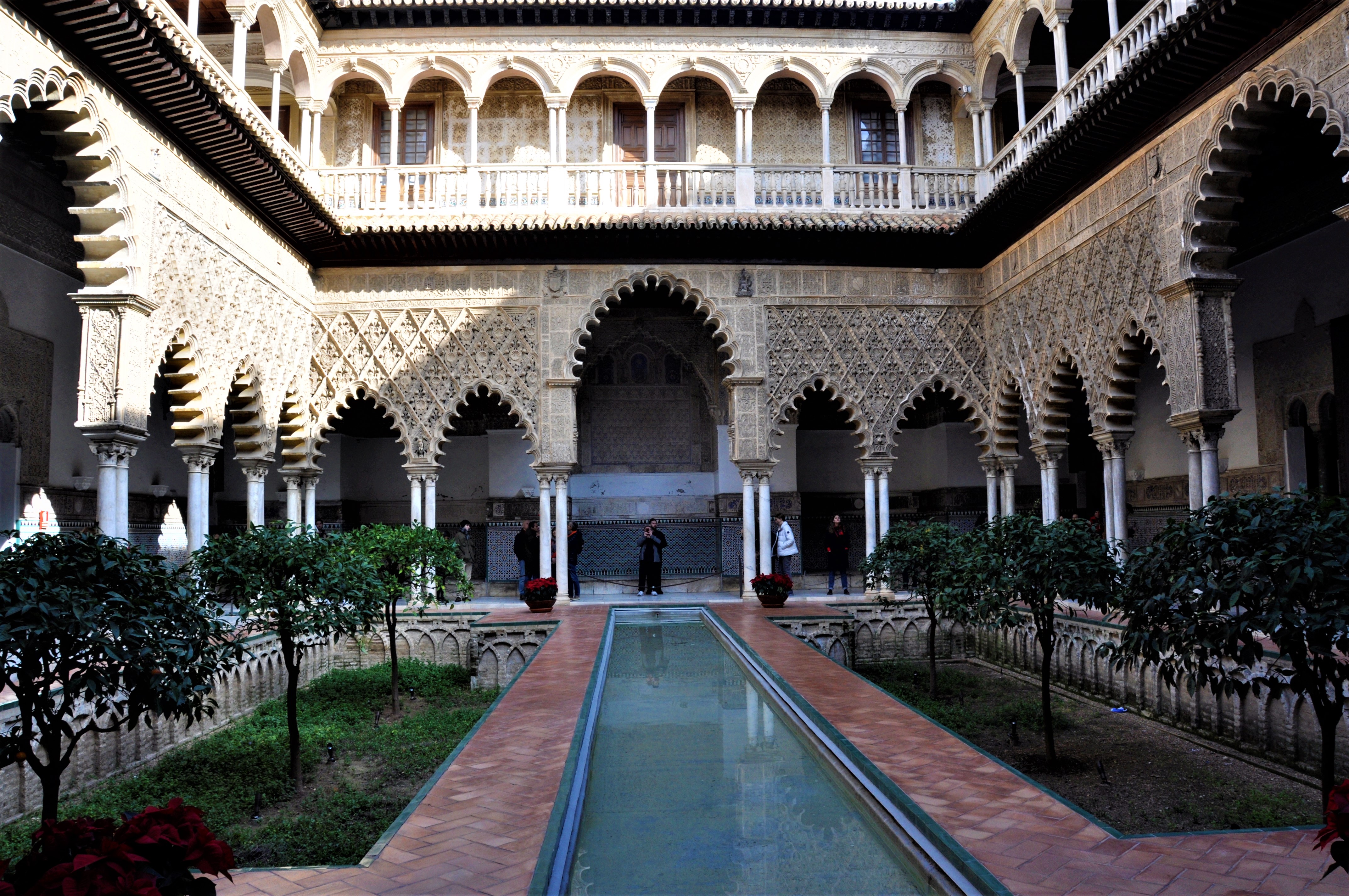 Catedral de Santa María de Sevilla & La Giralda
Considered the biggest Gothic Cathedral in the world, Cathedral of Sevilla's Saint Maria is an important monument within the city. It's where Cristobal Colon's grave lays (America's discoverer) and it also has La Giralda attached to it, the most emblematic building of Sevilla. On the top of it, you can see the entire city and its beautiful colours.
The total ticket is 11€ to visit both the Cathedral and "La Giralda", so it's great for a family trip on a budget. For kids under 13 years old the entrance is free.
Travel 4 baby top tip: the queue is very long, so we recommend you book the tickets online. You will have to get both tickets individually (the total is 11€).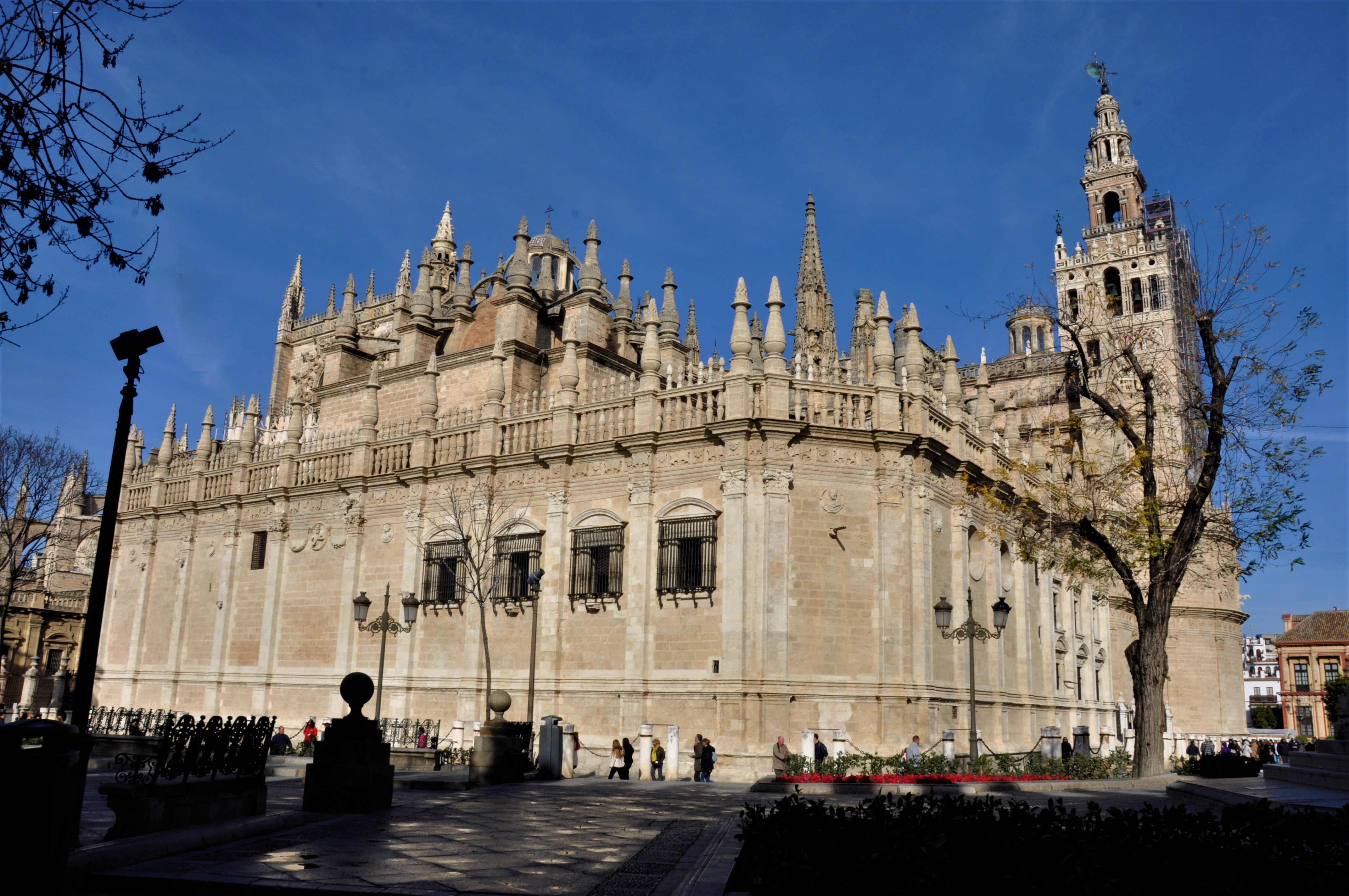 Plaza España & Parque de Maria Luisa
Symbol of the city and definitely a plaza that will stay in your memory forever. It transmits a unique feeling and it has a beautiful architecture that differentiates this square from the rest. It even has a small canal that goes through the plaza and you can cross it and see the entire Plaza España while sitting on a boat. Another unique aspect of this square is the 49 benches all around it, one for each province of Spain; although there should be 50, let's see if your family can find out which one is missing!
It's a wonderful place to just walk around with your loved ones, admiring its particular beauty. You may even recognise this plaza from movies such as Star Wars or The Dictator.
The plaza is located in Maria Luisa's Park. Another part of Sevilla definitely worth exploring: with beautiful promenades, fountains with detailed sculptures such as Cupid, museums and more.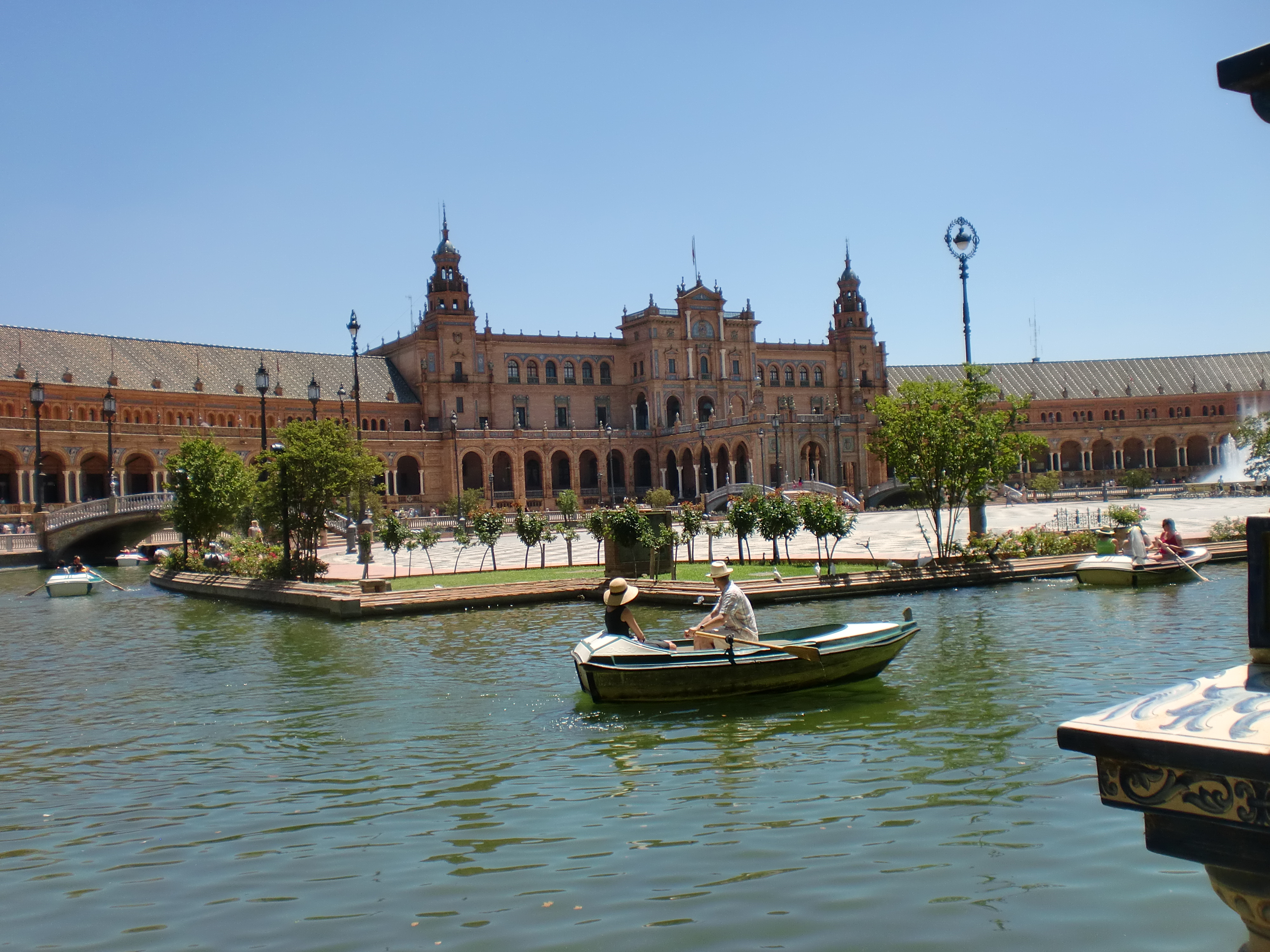 Barrio de Santa Cruz (Saint Cross Neighbourhood)
As the entirety of Sevilla, it holds a lot of history and many different spots worth checking out. It's also a good neighbourhood to just walk around with your kids, admire the buildings, its beautifully decorated balconies and its very own lifestyle. Plaza de Doña Elvira, Calle Pimienta (Pepper Street), Callejón del Agua (Water's Alley) – at the end of which you can find the Jardines de Murillo (Little wall gardens). This magical neighbourhood will not disappoint you!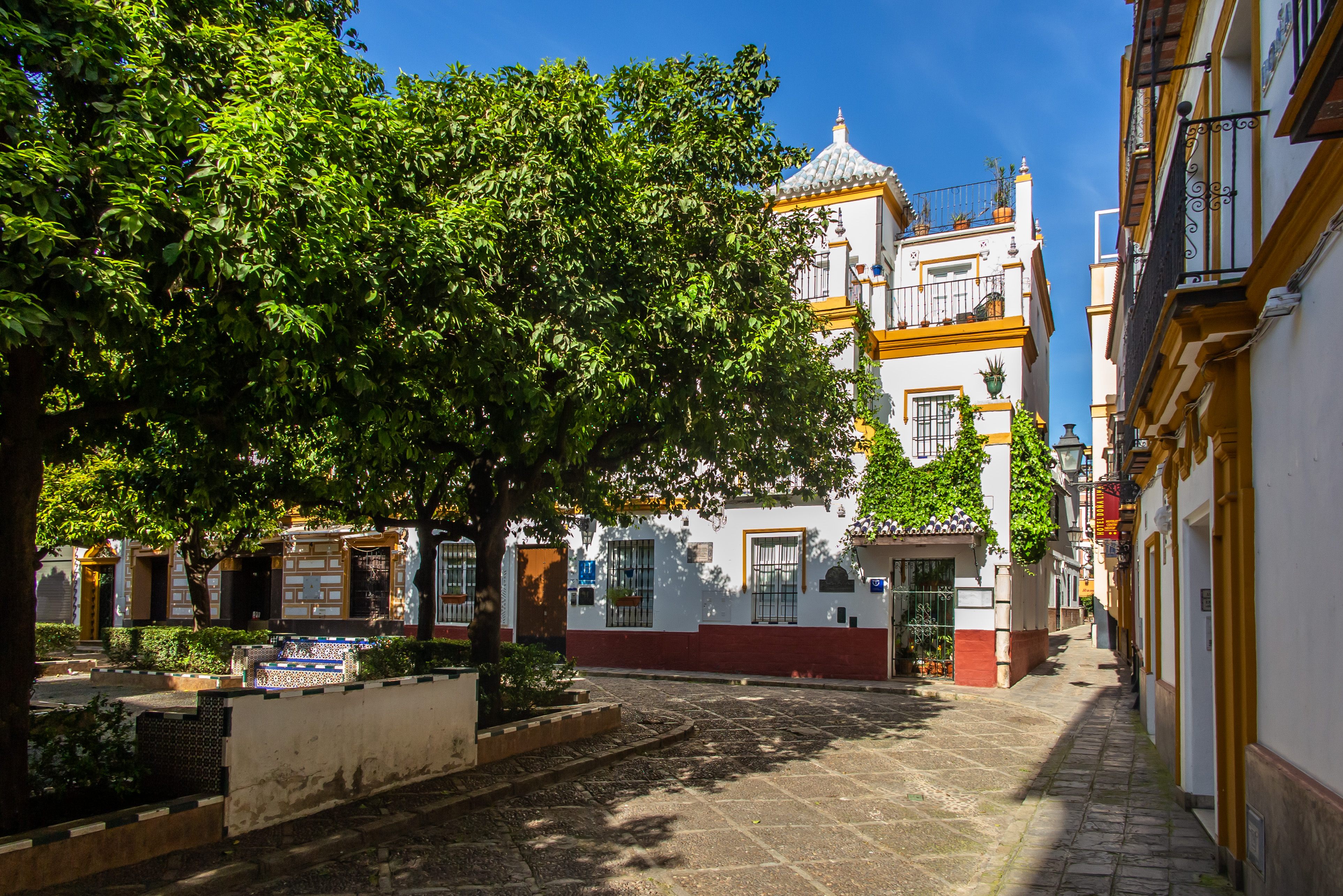 Isla Mágica (Magic Island) 
It's the most fun experience for kids! If your children are a bit older (from 10 and up), this theme park will be their fondest memory of Sevilla. It has a wide variety of rides and rollercoasters and, if you pay a bit more you can combine your ticket with the Aqua Park as well, making it the most fun and refreshing experience during the summer time.
The general entrance ticket cost may vary depending on the date, but it's usually around 25-30€ for adults (from 11 to 65) and 20-22€ for kids (under 11 years old). Children younger than 3 years old or 4 years old if shorter than 1m can enter for free.
Travel 4 baby top tip: get your tickets online as there might be some discounts available. And if you have the opportunity, visit it on a weekday so it's less crowded.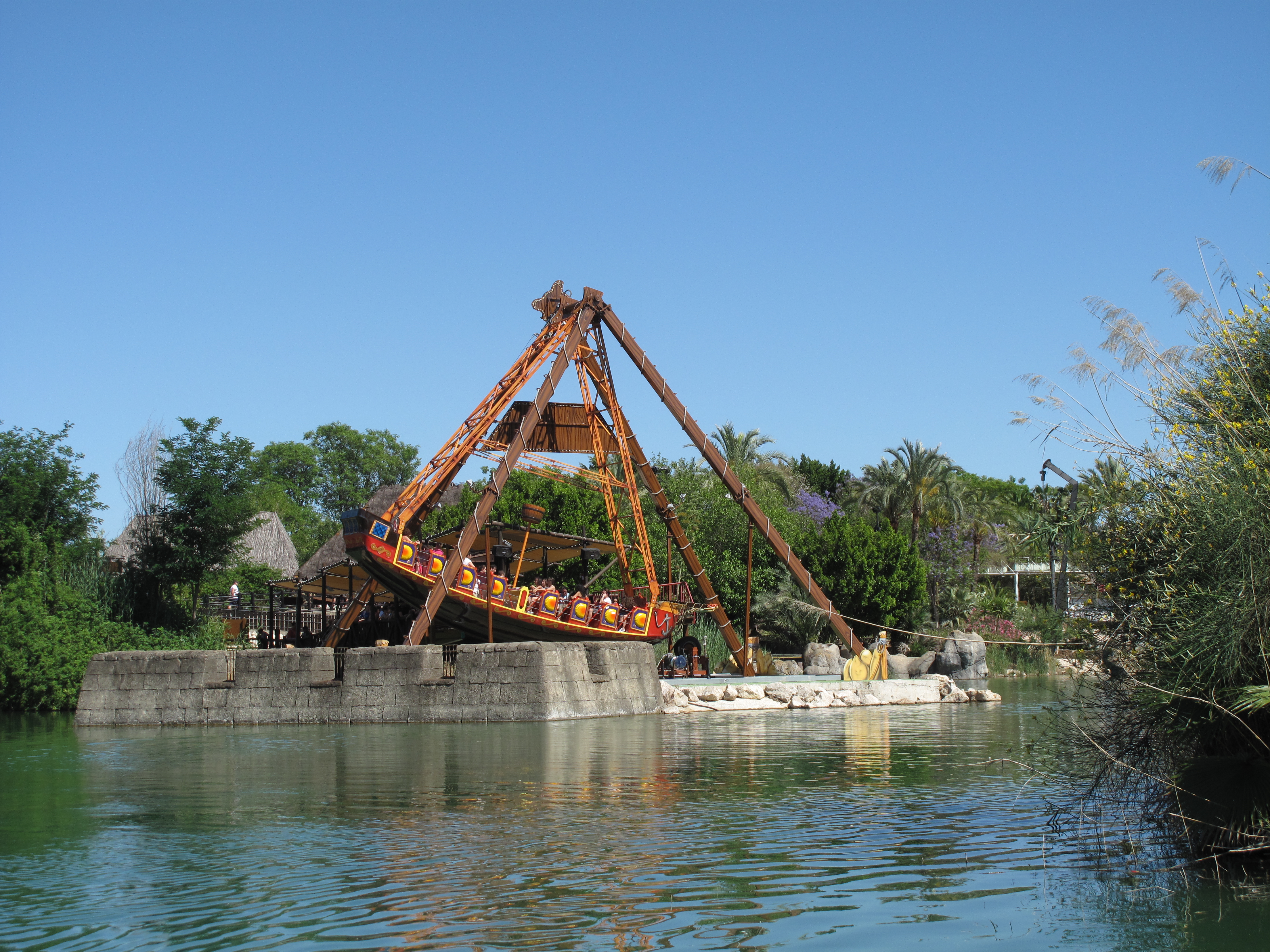 It's hard describing and explaining a city like Sevilla. It definitely has a uniqueness and charm to it that is only appreciated once you get to experience it yourself. A wonderful and memorable city to spend as a family!
Last updated: 18th of April, 2023.