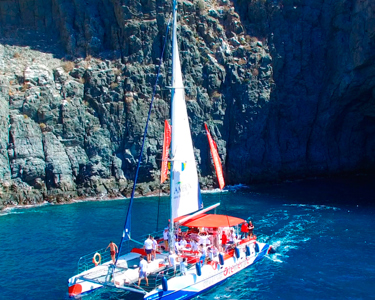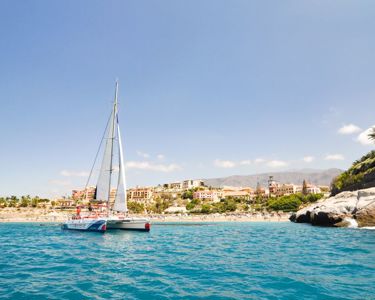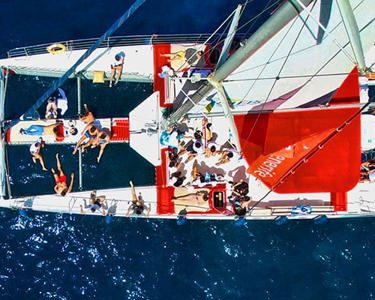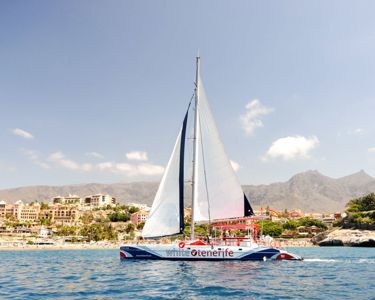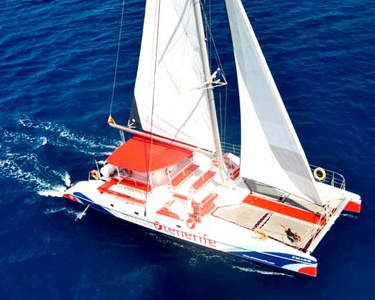 White Catamaran
Catamarans offer an up close and personal experience with the incredible marine life here in Tenerife.
There are over 500 pilot whales that are native in this area as well as dolphins, sea turtles and more!
On White catamaran, at times you can be so close to the whales if feels as if you could almost touch them.
You can choose from either a 3 or 5 hour sailing. We would recommend 3 hours if you have an active toddler rather than 5.
Both sailings include hotel transfers, food, drink and a swim/snorkel stop in one of Tenerife's stunning bays. (Children's menu can also be requested as well as special dietary menus).
The 5 hour sailing goes all the way to the magnificent cliffs of Los Gigantes.
There is a shaded area on the boat which is handy. There aren't however any specific baby changing facilities on board.
If you are traveling with small children, we recommend that they wear child swim jackets or water wings at all times on board.
White offers a great affordable way to relax with your family and see some of the Atlantic's most amazing mammals.
Travel 4 Baby's Top Tips
Take swimwear, towels, suncream and sun hats
Wear layered clothing in case the wind picks up
Ensure children wear life jackets, water wings or similar on board as catamarans sit very close to the Ocean
We don't recommend catamarans if you have a very restless toddler (ultimately you know your own child and what will suit them best)
Adult Ticket

Age from 10+

Infant Ticket

Ages 0 to 2 Years
Infant Ticket

0 - 2 Years