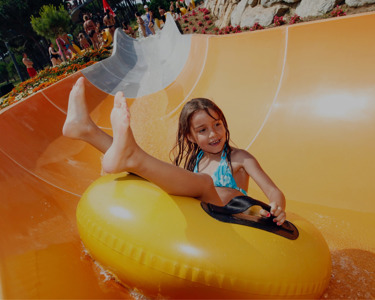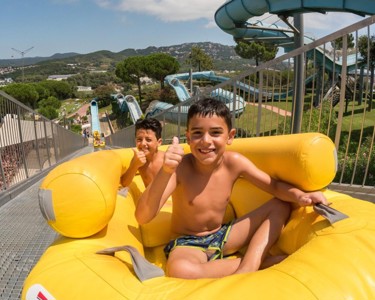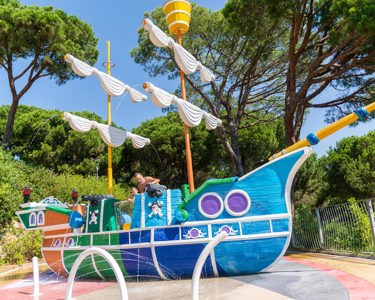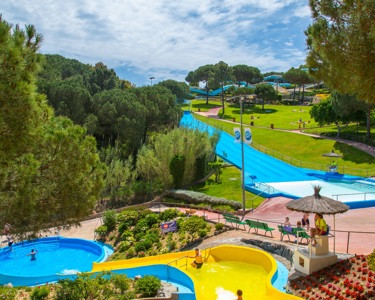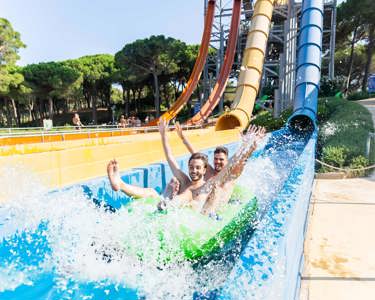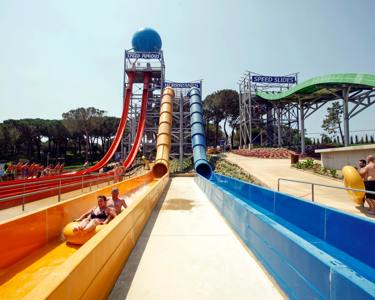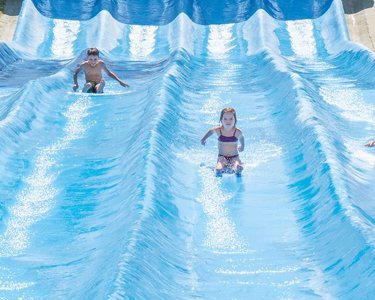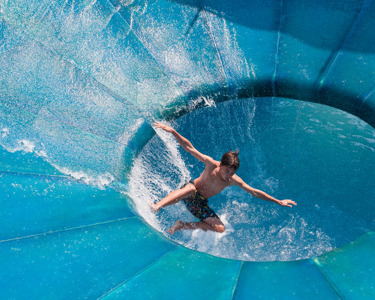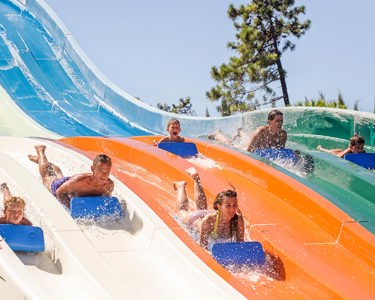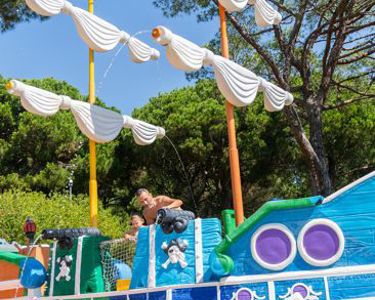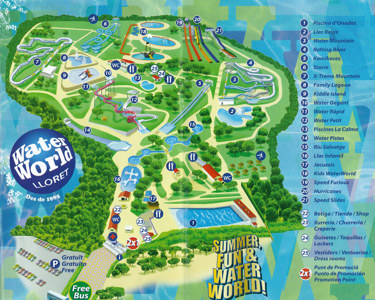 Water World Lloret
Endless fun for the whole family at this exciting water park in Lloret de Mar, in Costa Brava.
Especially built for families, Water World has great facilities and fun areas available for kids of all ages and heights.
For babies, toddlers and small children
Kiddie Island is the area especially designed for small kids as the name says. It has water guns they can play around with, a shallow pool and colourful slides.
There's the Baby River and Fun River, a nice and wide river for the small children so they can experience the fun experience of a water slide just as an adult.
Kids Water World is the most fun place for the kids, with colourful and entertaining waterfall designs where children and parents can run around and get refreshed. You also have the Children's Lake, a deeper pool for toddlers where they can swim with floats and have the best time.  
For kids aged 3-7
Nauyaca is a water slide for the smaller kids, ending up in a nice pool. There is also a nice Wave Pool.
The Water Mountain and Rafting River are two water slides you can get in as a family riding down the slide on top of the same float for the best family time! There are also the Racing Slides and Speed Slides, several water slides you can ride at once to see who makes it faster to the end.
These and more areas such as the Family Lagoon waits for you inside the park.
For the bigger kids (and grownups who still think they are kids!)
Kamikaces and Storm are the rides for you if you are looking for some adrenaline-inducing experience. The first, two parallel water slides at high altitude. The second one is set to resemble a storm, where you will fall into a pool in the middle.
There's the Wild River for a wider slide you can ride with a friend or family member at the same time. Speed Furious, a free-fall slide. Python, a longer and fast water slide and Hurricanes, a fast slide you can ride with your kids inside a boat. 
How to get there
This excursion offers transfer to and from your hotel. You can select your pick-up point on the reservation page.
Travel 4 Baby's top tips
You can take your food into the park

as there are picnic areas.

The floor can get very hot in summer, so pool shoes are advisable especially for the kids.

Book online to secure your place, as during busy periods it may not be available on the day.

Book with us to pay through a reliable and trusted company.
Entry Tickets with Transport
Child Ticket

3 - 10 Years

Infant Ticket

0 - 2 Years