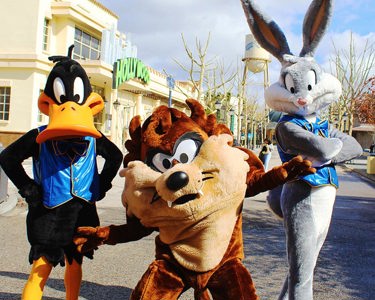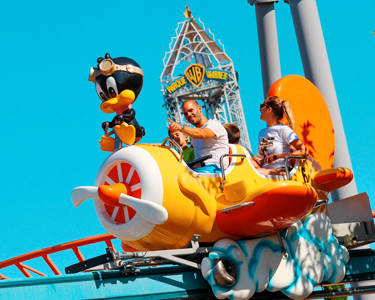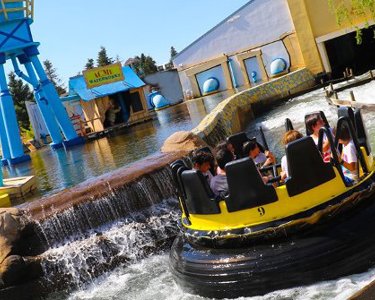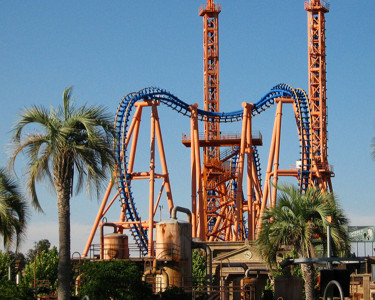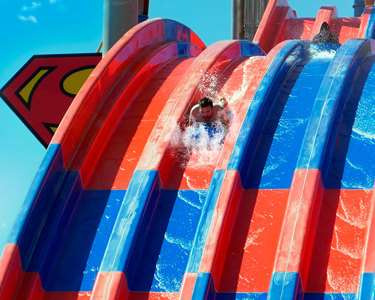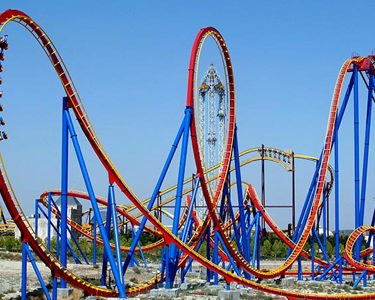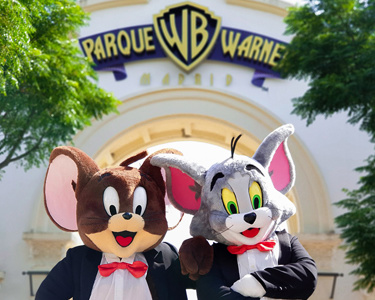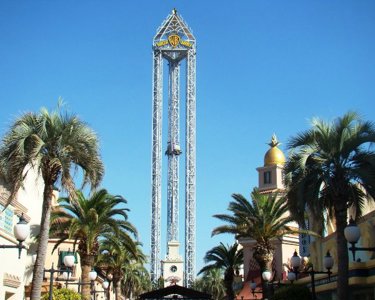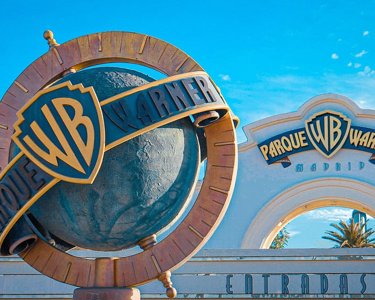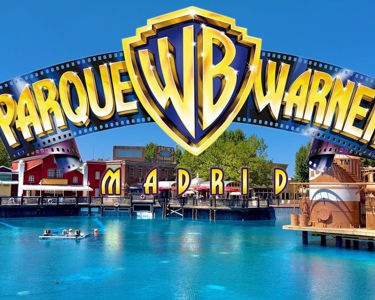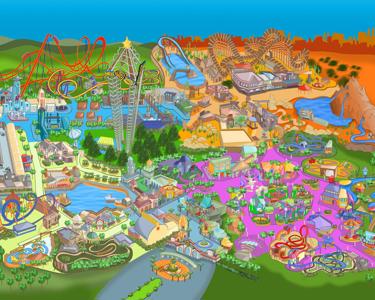 Warner Park Madrid
Kids won't ever want to leave! There's no better place for children, with endless rides and entertaining shows – an attraction for every age and height.
Madrid's Warner Park has its rides' names and design based off of famous Warner Bros shows.
What can you expect?
Cartoon Village
For babies, toddlers and small children: La Captura de Gossamer

, choose your favourite helicopter and spin around at a baby friendly speed. The

Cartoon Carousel

is always a good and fun ride for small children as well.

Emergencias Pato Lucas

where kids will align with Lucas the Duck to put out a fire.

Scooby Doo's Tea Party Mistery

are the giant tea cups from Cartoon Village, colourful designs that spin around and make for a great time. There is also

Convoy de Camiones

, a set of fun decorated trucks that you can hop on and get a tour of the area.

¡A toda Máquina!

You and your kids will get to navigate in this exciting boat swinging around.

La Aventura de Scooby Doo

is for those whole love the movies, a fun tour with different rooms inspired from the famous show.

For kids aged 3-7 (height of 0.80cm-1.10m): Pato Lucas Coches Locos

, fun and exciting bumping cars where kids always have the greatest time

. Acme Juegos de Agua

for the most refreshing time in this area full of water games

. Wile E. Zona de Explosión

, a kid-friendly platform that will take you high in the sky

.

Are you up to travel to space? With

Marvin el Marciano Cohetes Espaciales

you will get to in colourful spaceships

. Looney Tunes Correo Aéreo

, while inside this platform that elevates to the sky your kids will get the chance to become a mailman and get everyone their mail.

For the bigger kids (and grownups who still think they are kids!)

: Want to learn how to drive at an early age? In

Escuela de Conducción Yabba-Dabba-Doo

you will get to in a fun and safe space. He visto Un Lindo Gatito

is the perfect chance for the kids and parents to experience flying while swinging around in this colourful ride.

Academia de Pilotos Baby Looney Tunes

is a fun and kid-friendly rollercoaster that's not only exciting but also gives you the chance to look at the park from up-high

. Piolín y Silvestre Paseo en Autobús

is a flying bus that will take you in a fun and exciting ride

. Tom & Jerry Picnic en el Parque

is a rollercoaster meant to be experienced as a family

. Correcaminos Bip Bip

is a faster and more adrenaline-inducing rollercoaster for those up for the challenge.
Hollywood Boulevard
For babies, toddlers and small children & 3-7 aged kids:

Kids and children of all ages always adore the

DC Universe on Parade

, getting the chance to see all types of superheroes from up close. You can also take pictures with the friendly and fun

Looney Tunes

characters. Once you enter the park, there is a

Looney Tunes Welcome to the Celebration

where the characters of the show will welcome you and your children with a fun and musical performance.

At the end of the day there's another fun parade that combines all the Superheroes and Looney Tunes characters in case you missed it before.

For the bigger kids (and grownups who still think they are kids!)

: DC superheroes in Training

if you have a height of 1.10cm you will get to become a powerful superhero with the help of Robin, Wonder Woman, Green Lantern and more.
Old West Territory
For the bigger kids (and grownups who still think they are kids!)

: Want a fun and refreshing ride? The Cataratas Salvajes

is a big wooden platform where all your family can hop on and get an exciting ride with rapid falls that will splash you with water.  

The Coaster Express

is a wood rollercoaster, one of the fastest in the park. Hold on tight because

Los Carros de la Mina

will spin around rapidly for a great family time.

Río Bravo

is another water ride from the area in an impressive fluvial river, get ready to get splashed!
Movie World Studios
For babies, toddlers and small children:

enjoy a nice tour around the South of California without leaving the park thanks to

Cine Tour.
For kids aged 3-7: Hotel Embrujado

, be ready to be scared in this haunted house – a really fun time for the entire family.

For the bigger kids (and grownups who still think they are kids!)

: The most fun ride for families and kids, the Oso Yogui!

An exciting water ride that will let you splash water to each other.

Stunt Fall

is a rollercoaster that gets to a speed of 115km and has some very adrenaline-inducing loops.
DC Super Heroes World
For kids aged 3-7 (height of 0.80cm-1.10m):

Flying chairs! For the entire family, the

Mr. Freeze Fábrica de Hielo

will spin you around high and fast.

For the bigger kids (and grownups who still think they are kids!)

: The Joker Coches de Choque

are amazing bumping cars with bright colour designs, choose your favourite and get ready for some fun driving experience!

Shadows of Arkham

will make you and your kids escape from the Arkham Asylum walls swinging around and getting upside-down – the most amazing time! There is also

Lex Luthor Invertatron

, an invention that will spin you around quickly while getting you up. The most famous attraction of the park is in this area too, the

Superman Rollercoaster

, 100 km/h with 7 loops and several freefalls for the most exciting ride.  

Batman: Gotham City Escape

is the latest ride in Warner's Park, escape from Gotham in this fast and tall rollercoaster. No amusement park is complete without its freefall ride, which is why there is

La Venganza del Enigma

, a 100-metre-long freefall.
Shows
Cartoon Village: There are several shows like the Looney Tunes Dance Festival Stars so your children can dance with their favourite Looney Tunes characters. You can also check the typical artist's dressing room inside the Camerino del Pato Lucas. Check the Madriguera de Bugs Bunny as well or La Casita de la Abuelita, the house where Polín, Silvestre and his grandma live.
Hollywood Boulevard: The DC and Superstars Universe Parade is always a wonderful chance to spend some family quality time or the DC Superhéroes in Training to let your kids learn how to become a Superhero.
Old West Territory: If you are up for the challenge, there is Expediente Warren the Terror Passage to experience some of the terrifying scenes from several scary movies. For a more cheering experience there is Steampunk Saloon for some musical and dancing performance.
Movie World Studios: If you are a Friends' fan, this is your chance to get pictures inside the famous show set. For a scarier time, if you can endure it there is the terrifying city and IT Experience as well. Get to know Ace and Krypto from the DC SuperMascots. You can also find an amazing performance with some police persecution and shooting from the Local Academia de Policia. For a musical show, there's the The Dreamers: El Musical, a very entertaining dance and singing performance.  
DC Super Heroes World: You can get pictures with Batman and Robin, DC Supervillains or the Justice League. Get to see the amazing fight between Batman and the Joker in this wonderful performance from the DC Super Heroes World area. 
Restaurants
Cartoon Village: Porky Big Diner is a wonderful place to eat with small children, delicious hamburgers for everyone! There's also the Cartoon Café for some nice salads and Italian pasta. If you prefer pizzas or hot dogs there is Ristorante Piolini. TNT Coffee is a stand where the little ones and yourself can recharge your energy with good snacks and hot dogs. You can also find the Vaca y Pollo Helados to get some refreshing ice-cream or pastries.
Hollywood Boulevard: There's a Starbucks to enjoy nice pastries and coffee to recharge your energy. Two Foster's Hollywood for some American cuisine. If you want some homemade pastries for dessert there's the Beverlly Hills Bakery. For a quick and tasty lunch there are also the HollyWood Hot Dogs.
Old West Territory: The best XXL food is here, in the Cantina de los Forajidos you can try great Nachos, hamburgers and more. El Coyote Solitario Saloon has some refreshing drinks and coffee that you can enjoy with nice pastries. You can also get an ice-cream in Helados Old West or delicious ice-cream yogurt in Llao Llao food truck. There is also a self-service meat restaurant, El Rancho has great ribs, meat skewers and great chicken breasts.
Movie World Studios: Jack's Fish Market has amazing XXL sandwiches. If you prefer some nice Mediterranean food there's the Casa del Sol buffet. Studio Café serves great pasta, rice, meat and fish. For a quicker bite so you don't miss any of the exciting rides, you can find the Dockside Drinks stand for some nice sandwiches. For dessert, there is the Llao Llao stand with delicious yogurt ice-cream.
DC Super Heroes World: If you and your children like grilled hamburgers there's the Gotham City Grill. The Daily Planet restaurants has pizzas and hot sandwiches. Empire serves delicious Ben & Jerry's ice-cream, coffee and pastries or you can also head to The Penguin Helados for homemade ice-creams. 
How to get there
Want to use public transport? From the centre of Madrid, you can take the C3 train in Puerta de Atocha heading to "Estación de tren Aranjuez" and stop at Estación de tren Pinto. There, you will want to change to the railway heading to "Av. Chapado-el Quiñón" and stop at Parque de Ocio; which leaves you right at the park. This all takes about 1 hour.
Alternatively, a taxi might be quite expensive but an option worth considering. Always check with your hotel the options you have available. The ride takes about 35 minutes from the centre. If you are going there with your own car or a rented one, know that there are parking facilities available outside the area. You can book your parking ticket online as well for 11€.
Travel 4 Baby's top tips
Buy the tickets online for a cheaper price than on the day at the box office.

You can't bring your own food and drinks into the park.
Bring casual clothing and footwear.
Skip-the-line Entry Tickets
Child Ticket

100cm - 140cms