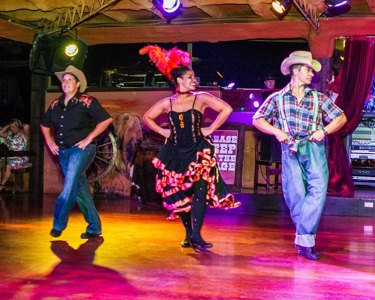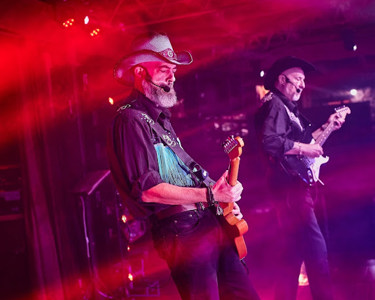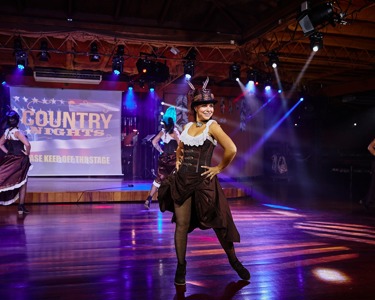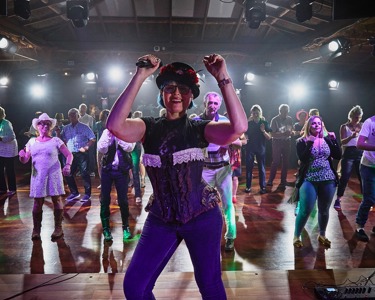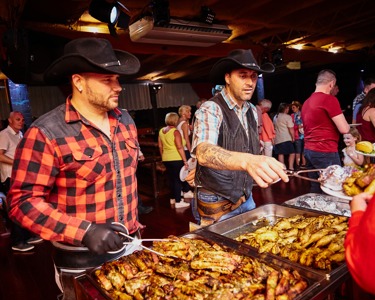 Rancho Texas Park Country Night
Rancho Texas Country Night
Step deep inside the Wild Wild West and shout Yeehaw as you pull up at the venue.  You will be greeted in style by Cowboys and Indians on horseback!
Sing and tap along to the sound of the resident musicians 'The Texas Bandits' as you are taken to your seats. 
Food and Drink
Once seated, you will be served a BBQ buffet feast! Chicken, ribs and  jacket potatoes are cooked in a wood fired oven. Salads and sauces are also served as well as children's meals, chicken nuggets, chips and ice creams. Drinks throughout the night are free flowing and after dinner the party really begins.
The Show
Watch and join in with the incredible country dance routines that take place after dinner. The dancers will perform some thigh slapping routines and Calamity Jane will teach you all the moves so you can join in with the fun. The Texas Bandits will play a variety of music throughout the evening so you can dance the night away.
There is an amazing whip and lasso show from the famous Dakotas! For those over 18 you can even be brave and muster up the courage to take on the terrifying Buckin Bronco! (An extra charge applies).
Horse and pony rides take place throughout the night outside in the park area so if small children want to escape the noise for a while they have a safe and fun space to do this. 
The Rancho Texas  Country Show is great family fun if you are looking for something different on an evening in Lanzarote.
Travel 4 Baby's Top Tips:
The show is only open twice a week, Tuesday and Friday nights. Doors open at 19:00 and the show ends at 23:00. This may be too late for some young children. Pushchairs are allowed inside though and there is a quiet area outside in the park area if they want to escape the noise.

The loud music may not suit all children, however, some will love it and some babies will even fall asleep to the beat of the music. At the end of the day, you know your own child best.

The park can provide meals for vegetarians, vegans and anybody with dietary requirements, they just need to know in advance. Feel free to take inside whatever snacks or food and drink you want for the kids. They don't mind. 

Busses can be arranged from the resorts of Costa Teguise and Playa Blanca. If you are staying in Puerto Del Carmen you can take a taxi for around 5 euros 
Child Ticket

3 - 12 Years

Infant Ticket

0 - 2 Years