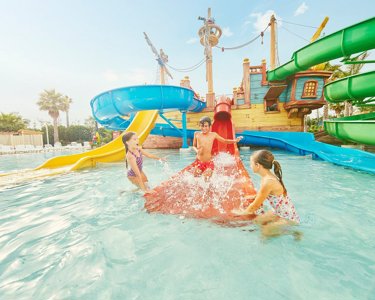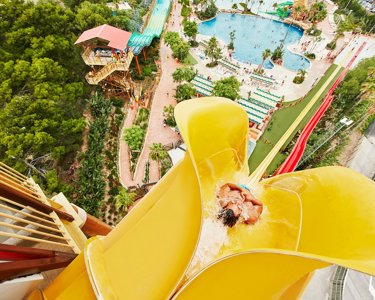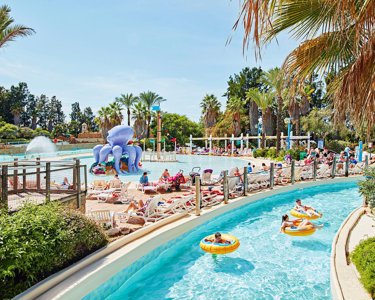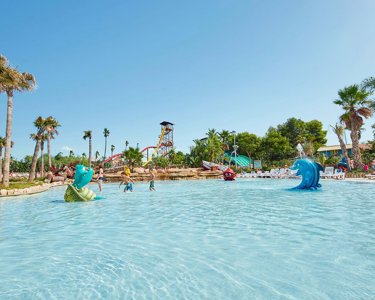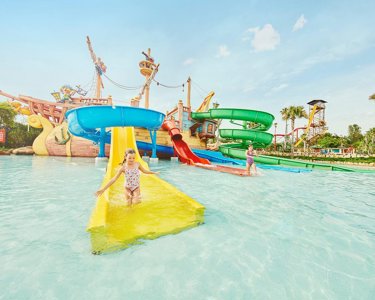 PortAventura Caribe Aquatic Park
Inside Port Aventura World, there's this incredible water park as well – with endless fun rides and attractions for kids of all ages! All meant for the most refreshing family time.
For babies, toddlers and small children
Bahama Beach, Sesamo Beach and Playa Paraíso are two beaches for a relaxing time while sunbathing and enjoying a nice time in the water with your toddler. Cayo Cookie it's a nice area with water springs on the flower to run around getting refreshed. Let yourself go with the flow in El Río Loco or Crazy River. El Triángulo de las Bermudas for some fun waves pool. La Laguna Woody is a playground area in a pool and there's also the indoor playground or Zona Indoor.
For kids aged 3-7 (height of 0.90cm-1.10m)
Barracudas for a covered and fun water slide. El Galeón Pirata for some fun aboard a pirate ship! El Torrente is a ride for the whole family, hop on the float with your kids and go down the slide and into a pool. Junior Body Slides is, as the name says, a playground area with fun water slides and a big pool.
For the bigger kids (and grownups who still think they are kids!)
Rapid Race to compete with your kids and see how goes down the water slide faster. Mambo Limbo will make turns and swings and quickly go down into a pool. King Kahjuna is the wildest water fall inside the park, a high-speed and tall water slide. El Tifón, two water slides to double the fun. Ciclon Tropical is a water slide 100 metre long.
How to get there
Want to use public transport? The PortAventura train will leave you at the park. It has a cost of 10.55€. It takes around an hour from Barcelona.
Alternatively, a taxi might be quite expensive so always check with your hotel on what options you have available. Do you have or are you thinking of renting a car? You can use a rental car as it's about a 50-minute drive from Barcelona. There are parking facilities available within the park area and it costs 14€.
Travel 4 Baby's top tips
You can't take your food into the park. There are several restaurants throughout the park.

Buy the tickets online for a cheaper price than on the day at the box office.

The floor can get very hot in summer, so pool shoes are advisable especially for the kids.

Remember to wear sunscreen to protect yourself from the heat.
PortAventura Caribe Aquatic Park One Day Entrance Ticket
Adult Ticket

11 - 59 Years

Child Ticket

4 - 10 Years

Infant Ticket

0 - 3 Years