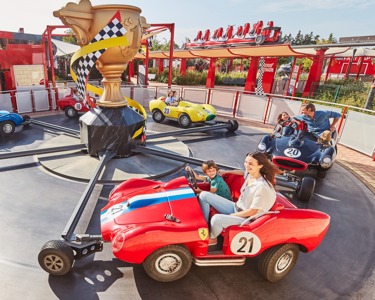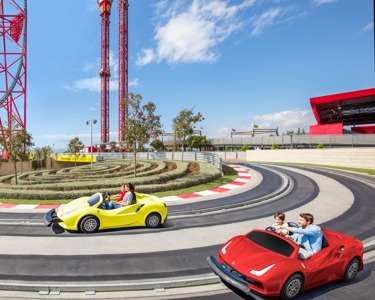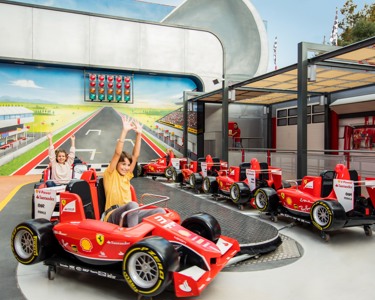 Ferrari World
Inside Port Aventura World, there's this incredible park as well – with endless fun rides and attractions for kids of all ages! All designed and inspired in Ferrari's cars.
For babies, toddlers and small children
At Ferrari Land Gallery you and your children will get to see incredible car models from different decades. Flying Race, as the name says, is an airplane where you and your family can hop on together and race to the finish line. Kids Podium is a fun playground area where kids of all ages can run around, go down the slides and more.
For kids aged 3-7 (height of 0.90cm-1.10m)
Champions Race, choose your favourite car and hold tight while it spins you around! Junior Championship is a car circuit for the little ones. Junior Red Force is the first rollercoaster experience you will encounter in the park! Kids Tower and Flying Dreams for an exciting and safe freefall. Maranello Grand Race, choose your favourite colour and car and race the other kids to the finish line. Racing Legends a simulation that will make you feel as if you were riding a real Ferrari Formula 1 race car.
For the bigger kids (and grownups who still think they are kids!)
Pole Position Challenge for the authentic F1 simulator. Torre Caida Libre for the bigger kids and grownups who want to experience a taller freefall. Torre Rebote for an exciting bounce-back machine that will take you up and swing you around. Red Force, the famous Ferrari Land ride, where you will get from 0 to 180km/h in 5 seconds.
How to get there
Want to use public transport? The PortAventura train will leave you at the park. It has a cost of 10.55€. It takes around an hour from Barcelona.
Alternatively, a taxi might be quite expensive so always check with your hotel on what options you have available. Do you have or are you thinking of renting a car? You can use a rental car as it's about a 50-minute drive from Barcelona. There are parking facilities available within the park area and it costs 14€.
Travel 4 Baby's top tips
You can't take your food into the park. There are several restaurants throughout the park.

Buy the tickets online for a cheaper price than on the day at the box office.

Remember to wear sunscreen to protect yourself from the heat.
Ferrari World One Day Entrance Ticket
Adult Ticket

11 - 59 Years

Child Ticket

4 - 10 Years

Infant Ticket

0 - 3 Years