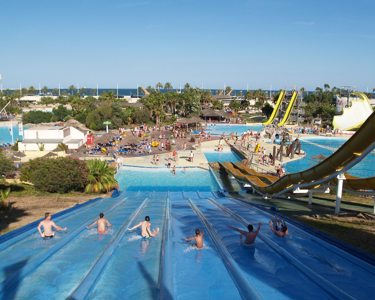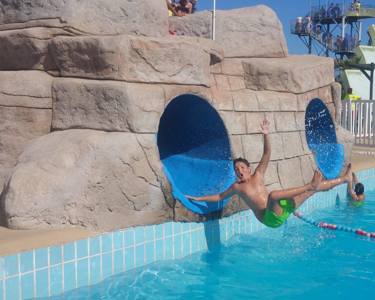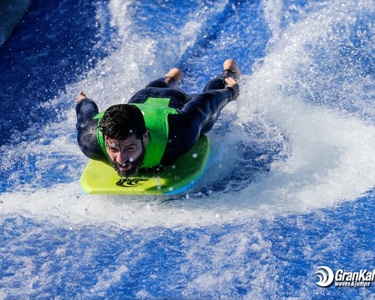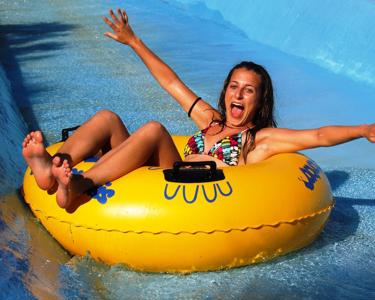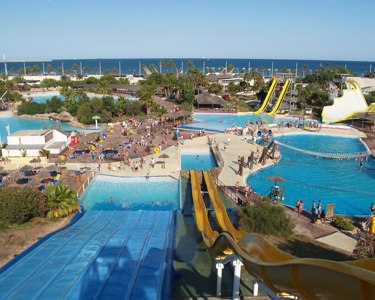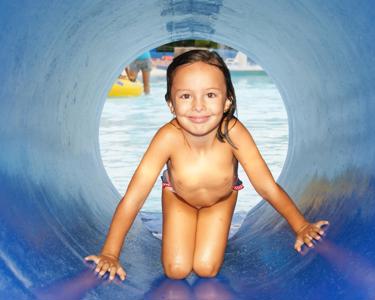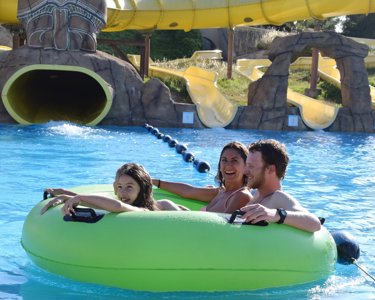 Aquopolis Costa Daurada Salou
Aquopolis
Endless fun for the whole family at this exciting water park in the northern side of Costa Daurada, in Salou.
Especially built for families, Aquopolis has great facilities and fun areas available for kids of all ages and heights.
For babies, toddlers and small children
Zona Waikiki is the area especially designed for small kids, with colourful decoration, big animal inspired rides and baby slides.
Toddlers and babies have several water and pool areas with clean shallow water and different baby attractions all around. If you are looking for another kid's pool there is Zona Maui, in the centre of the park where parents and children can play around and swim in a calm and shallow-water pool.
Mini Park is an area inside the kid's pool with a depth of 60 centimetres and the presence of qualified lifeguards. This way kids can safely play inside the refreshing and colourful water castle, water guns and baby slides!
Isla del Tesoro (Treasure Island) where they can climb to the top of the island and go down in a fun and refreshing slide.
Tortuga Aventura (Adventurous Turtle) has a small mountain with an animated baby slide and a big turtle that the kids always love.
And finally, there is Zona Aloha as well. An area meant for relaxation and tranquillity. There are loungers, an artificial beach, food area and all you need for a quiet time before or after having some fun at any of the more adventurous zones.
For kids aged 3-7
Zona Oahu is made for those who are looking for a more adventurous time. A fun zip line and beautiful artificial lake with a fun platform where kids can jump, see how agile you are and laugh with your loved ones. A fun zip-line also waits for you and your kids here, ending up with a nice refreshing splash on the pool!
In Zona Waikiki there's Funny Jungle, where you and your kids can put your agility to the test and even their imagination! It has fun-coloured rides and baby slides.
For the bigger kids (and grownups who still think they are kids!)
Zona Volcano is the area within the park that hold the most attractions and rides. Amazing for those who want to get the most out of the day! There's Black Hole, a slide you can go down on top of a float, Vulcano River that simulates a beautiful river, the slide Magical Oval that has a capacity of 4 and is perfect to have fun as a family. There are also slides without float for those who are not afraid of a little more speed: Speed Race to compete with your friends and family, ZigZag that's a three-slide ride that goes into the middle of a mountain and Kamikaze which is probably the fastest slide of them all!
You also have Zona Malokai that holds the two most exciting rides of the park. Splash, where you will go down a slide using a special board and from quite a big height. Then there is Boomerang, it will feel as though you are falling from a cliff and then you will quickly go down and end up in a pool to safely stop your fall – perfect for those who don't back down from a challenge!
Note: You can't take your food into the park. You can however leave the park for 30 minutes for a quick break and comeback after. Regardless, there are many restaurants within the park, but on Zona Malokai there's a nice picnic area with beautiful grass and trees for the perfect family lunch.
How to get there
If you are staying in the city of Tarragona, there's the BUSPLANA bus that will take you directly to the park in 20 minutes.
Staying outside of the city we recommend you to use a car rental or taxi.
Travel 4 Baby's top tips
Remember that the floats are included with the entrance ticket, but not the Sun beds or lockers.
The floor can get very hot in summer, so pool shoes are advisable especially for the kids.
Book online to secure your place, as during busy periods it may not be available on the day.
Book with us to pay through a reliable and trusted company.
Child Ticket

0 - 11 Years