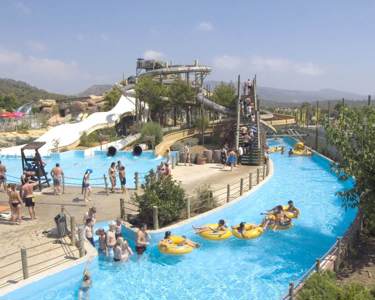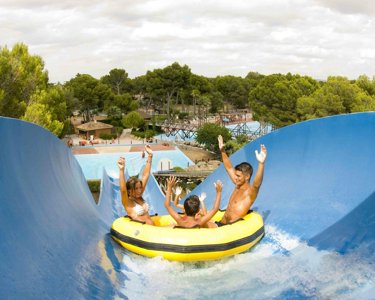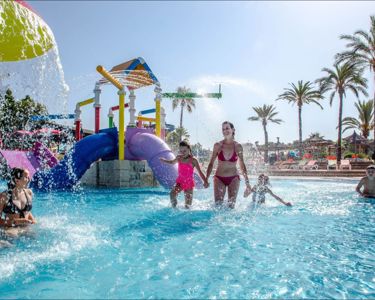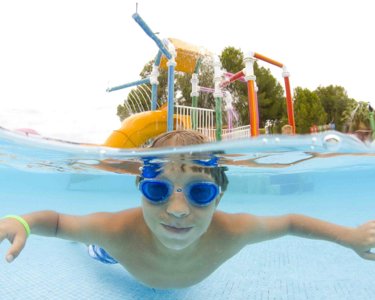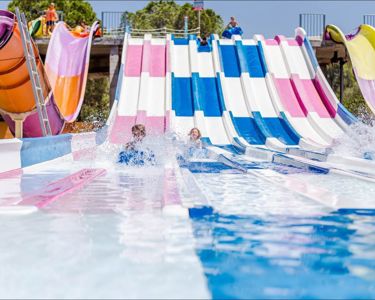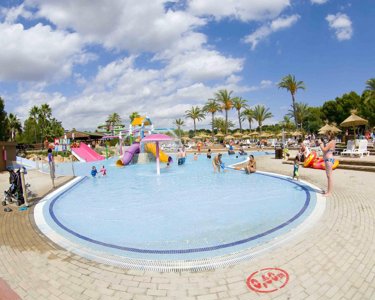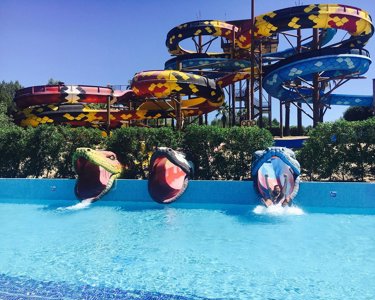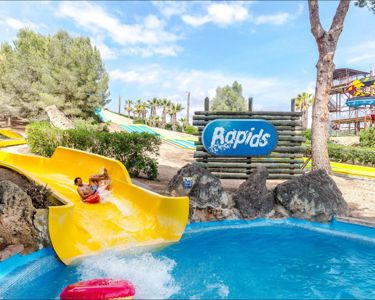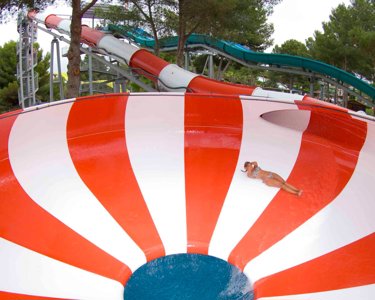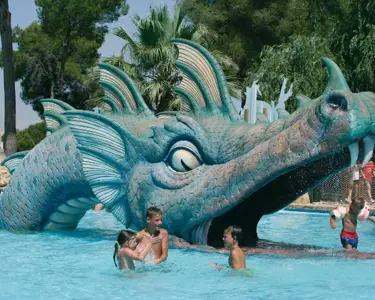 Aqualand El Arenal
For all ages and heights, the most refreshing kind of fun for the entire family! All in this exciting water park in the outskirts of S'Arenal, Mallorca.
It's especially built for families with small children and toddlers as it has great facilities, divided in different areas.
For babies, toddlers and small children
There are of course relaxing and more tranquil areas throughout the park with pools and waterfalls where you and your toddlers can happily play around with water such as Children's Paradise with kid-friendly slides and calm pool or Dragonland with colourful dragons and fun waterfalls.
For kids aged 3-7
A zone like Adventureland or Polynesia might be more fun for the 3-7 aged kids, with super fun-coloured slides and tall waterfalls to play around underneath them. There's also Multipista for a faster water slide where you can race your children. Or the Grand Canyon where you can all go down in the same float.
For the bigger kids (and grownups who still think they are kids!)
If you are looking for adrenaline, there is definitely a place for you in this park! Tsunami is a half-pipe of 15 metre length where you and your older kid can hop on in the same float. There's the kamikaze for the fastest water slide in the park or the Tornado for a fast and twirling ride experience, and more!
How to get there
This excursion offers a Transfer to and from your hotel in an air-conditioned coach. You can select your pick up point in the reservation page.
Prefer to use public transport? If you are staying in the city of Palma, there's the 23 bus that will leave you right in front of the park. 
Alternatively, it's just a 15-minute drive from Palma. You can order a taxi to take you straight to the park or you can use your rental car if you have one. We recommend booking this from your hotel as they will use reputable companies. Aqualand has parking facilities available that cost 7€ for the entire day. 
Travel 4 Baby's top tips
You can't take your food into the park. There are several restaurants throughout the park.

The floor can get very hot in summer, so pool shoes are advisable especially for the kids.

Buy the tickets online for a cheaper price than on the day at the box office.

Remember to wear sunscreen to protect yourself from the heat.