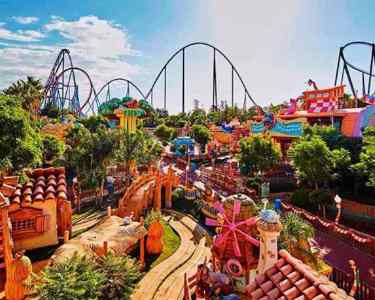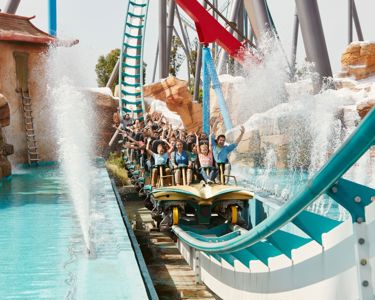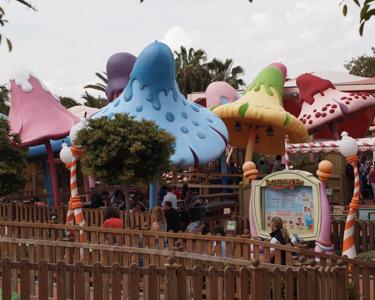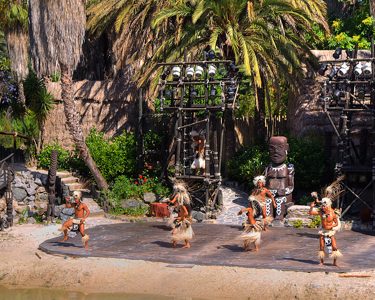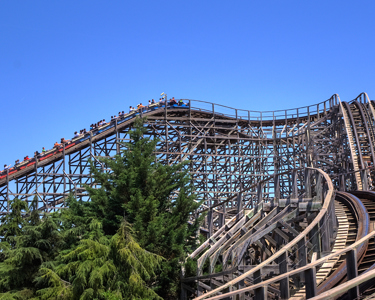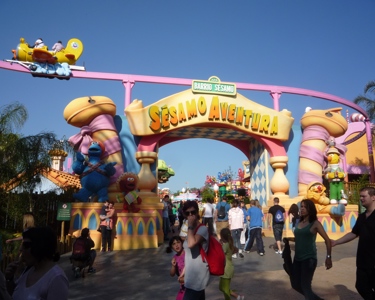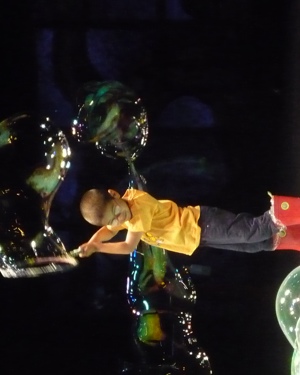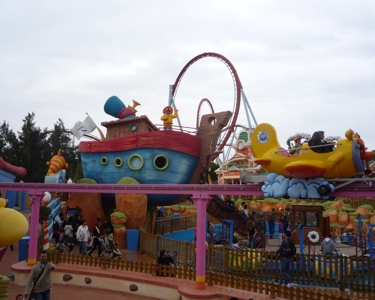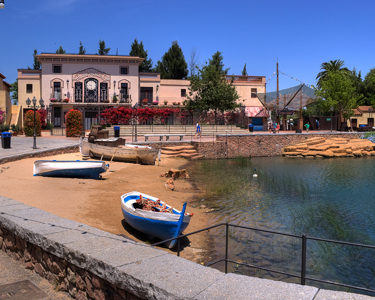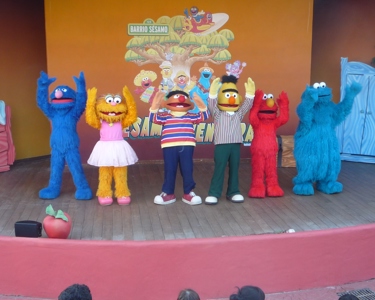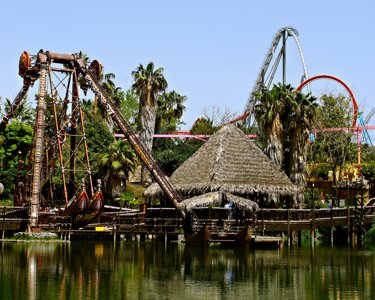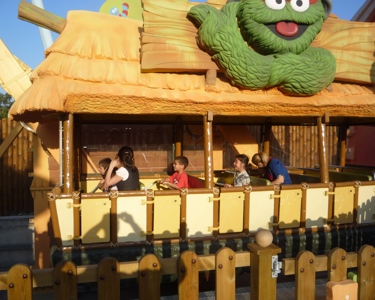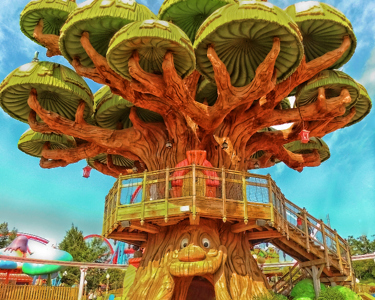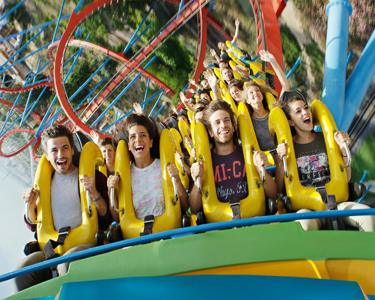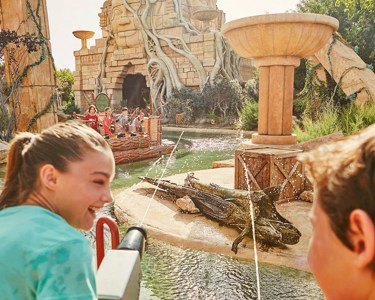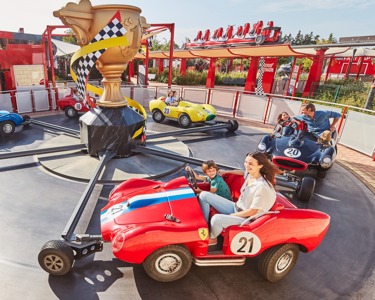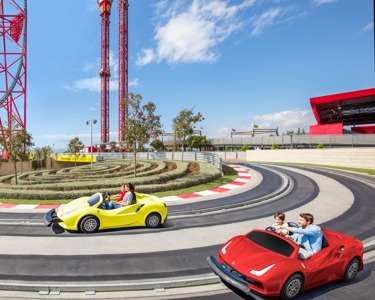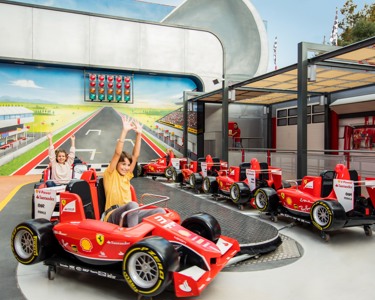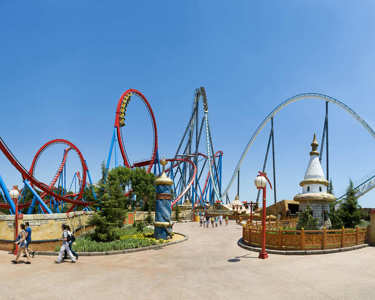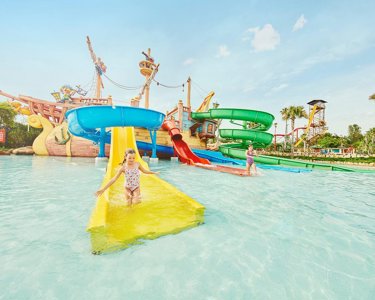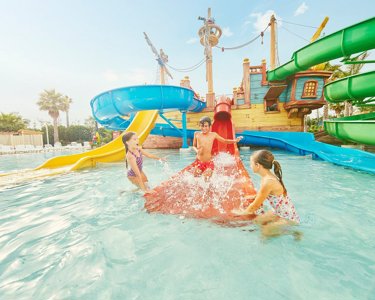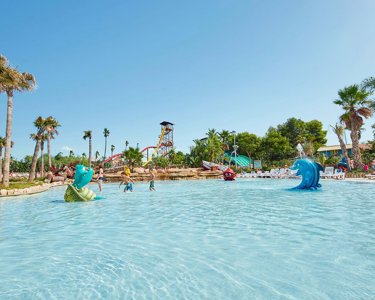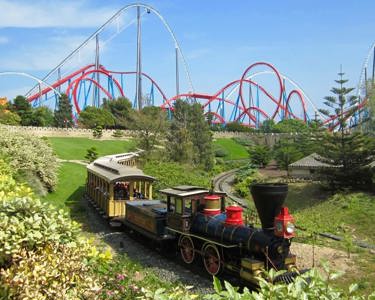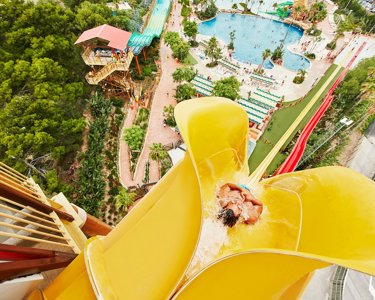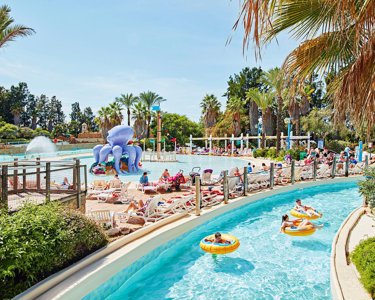 3 Day ticket to PortAventura Park, Ferrari Land and PortAventura Caribe Aquatic Park
The theme park with the fastest rollercoaster in the world and lots of other exciting rides - your family and children will get to have the most amazing time! Kids of all ages and heights have a place to have fun in Port Aventura.
The park is divided in sections based on different world locations: Polynesia, China, Far West, Mediterrània, México and Sésamo Aventura.
Polynesia
For babies, toddlers and small children & 3-7 aged kids: exciting and colourful canoes you can hop on to sail around a calm river.
For the bigger kids (and grownups who still think they are kids!): Tutuki Splash is a must, a wood wagon that will take you through a rive and will end in a fast descent – the biggest splash you've ever seen! Then there's Kontiki as well, a pirate ship that swings higher and higher.
China
For babies, toddlers and small children: the kids' area is perfect, with slides, climbing nets, bridges to cross and more. Waitan Port has no minimum height restriction, you can get inside its beautifully decorated boat and take in the wonderful view with your children.
3-7 aged kids: the kids' area is also perfect for kids this age. Angkor is always a kids' favourite, being able to pour water onto people riding the attractions! Tea Cups (minimum height of 0.90) where you can choose your favourite tea cup, hop on and try to hold on while it turns around fast. Cobra Imperial is a great ride to prove your endurance as well, decorated as a dragon it will spin you around at a considerably high-speed so hold on tight!
For the bigger kids (and grownups who still think they are kids!): Shambala, the tallest rollercoaster in the park for those who are looking for some adrenaline. Dragon Khan, the most famous ride inside the park and for a reason – with 8 different loops it will be the most exciting experience.
Far West
For babies, toddlers and small children: Buffalo Rodeo for an exciting bumping car ride with your children or the beautifully decorated Carousel for a calm and joyful ride. Laberinto Blacksmith is always a fun time, a far west decorated maze to see how fast you can get out. Penitence Station to get a calming ride throughout the park's area with your kids.
3-7 aged kids: Wild Buffalos for some wider and more exciting bumping cars. Grant Canyon Rapids where all the family can hop on together for a nice ride down the river in a spinning platform – watch out for the waterfalls!
For the bigger kids (and grownups who still think they are kids!): Tomahawk is the main rollercoaster in this area, with a wooden design and definitely fast if you are looking for some adrenaline! The Volpaiute is for those looking for an endurance challenge, a ride that spins you around at high-speed.
Mediterrània
For babies, toddlers and small children & 3-7 aged kids: Estació del Nord, all aboard the train! A fun and calm way to see the Mediterranean area of the park. Port de la Drassana is a wonderful option as well, but inside a boat.
For the bigger kids (and grownups who still think they are kids!): Furius Baco, the fastest ride in all Port Aventura! Definitely adrenaline-inducing and a special favourite of the rollercoaster fanatics. 
México
For babies, toddlers and small children & 3-7 aged kids: El Secreto de los Mayas, find out the Mayas' secrets in this colourful decorated maze and see who can get out faster! Potrillos (foals) and Armadillos are two of the rides in México where the kids can hop on these typical mechanical animals from centre America and enjoy a nice ride.
For the bigger kids (and grownups who still think they are kids!): Yucatan: careful, the snake is starting to twist and turn rapidly! Serpiente Emplumada, another big snake to be a part of a Mexican ritual while the platform spins and turns. El Diablo Tren de la Mina, two considerably fast rollercoasters – choose your colour and see which rollercoaster makes it first to the finish line. Hurakan Condor is the tallest ride, a tower that stands higher than 100 metres in the air – are you brave enough to endure the freefall?
Sésamo Aventura
For babies, toddlers and small children: Waikiki for the most mischievous chairs that swing at a baby friendly speed. El Árbol Mágico or the Magical Tree, a wonderful place to wonder around and explore the different adventures that can happen inside. El Huerto Encantado is a traditional playground area with slides, nets to climb and more. Kiddie Dragon, colourful dragon decorated platforms that swing around. La Granja de Elmo is the home of Sesame Street, where the characters live and lots of animals that your kids will get the chance to meet. Sesamo Aventura Station for a nice train ride around the area.
3-7 aged kids: Street Mission where you and your kids can help Grover on his adventure. Tami Tami is a kid-friendly rollercoaster. Coco Piloto is a way for the kids to see the area from up-high while "driving" a plane. El Salto de Blas is Sésamo Aventura's free fall! Then there's Mariposas Saltarinas where you can hop on colourful butterflies and have a pedal battle with your family to reach the top. Magic Fish where entire families can ride as well and compete to see who makes the most waves or travel the furthest distance.
Shows
Polynesia: Aves del Paraíso to watch how exotic birds fly beautifully and put on a show for you, Aloha Tahití and Pareos en Bora Bora for some Polynesian traditional dances.
China: Magic Bubble is always a big hit with the kids, an educational and beautiful show focused on huge bubbles creating wonderful visual effects. Destination Dance for some incredible and traditional musical and dancing entertainment.
Far West: The Musical of Can Can West, for a beautiful dance performance with traditional music. There is also the Bang Bang West for an action show, where you and your children will get to see a "real" western duel!
Mediterrània: Port Aventura Parade, a beautiful show inspired in the Mediterranean and different islands. A colourful and fun way to relax after the exciting rides with this kid-friendly parade.
México: Fiesta Mexicana for a traditional Mexican party, with dances and music from the country. Las Aventuras de Tadeo Jones for a kid-friendly musical performance with characters from the show.
SésamoAventura: Let's Dance so you and your children can move at the beat of the music with Sesame Street characters and skilful performers.
Restaurants
Polynesia: Bora Bora has healthy poke bowls and salads with vegetarian options. Puntos de Alimentación Polynesia makes slushies and has a variety of fruit.
China: Canton for some traditional Asian cuisine. Dagana for tasty burgers and sandwiches. Marco Polo if you want a buffet with a bit of everything. Sichuan for a self-service traditional Asian food. And Puntos de Alimentación China has delicious slushies.
Far West: The Iron Horse and The Old Steak House serves American cuisine: from salads to burgers, ribs and steak. Jeremias Food has good pizza and pasta options. Puntos de Alimentación Far West if you want slushies and fruit.
Mediterrània: Raco de Mar for traditional Mediterranean cuisine: salads, rice and more. Vinosfera to enjoy some nice tapas and wine. Café Saula for some nice pastries and coffee. And Puntos de Alimentación Mediterranea serves a variety of food.
México: Hacienda el Charro and La Cantina are both traditional Mexican food restaurants, with nachos, burritos, fajitas, tacos, etc. Puntos de Alimentación Mexico serves fruit and slushies for a nice dessert.
SésamoAventura: La Cocina de Epi serves all types of kid-friendly food: pizza, pasta, chicken, burgers, etc. Puntos de Alimentación SesamoAventura is a great place to have some fruit and slushies.
Ferrari World
For babies, toddlers and small children: At Ferrari Land Gallery you and your children will get to see incredible car models from different decades. Flying Race, as the name says, is an airplane where you and your family can hop on together and race to the finish line. Kids Podium is a fun playground area where kids of all ages can run around, go down the slides and more.
For kids aged 3-7 (height of 0.90cm-1.10m): Champions Race, choose your favourite car and hold tight while it spins you around! Junior Championship is a car circuit for the little ones. Junior Red Force is the first rollercoaster experience you will encounter in the park! Kids Tower and Flying Dreams for an exciting and safe freefall. Maranello Grand Race, choose your favourite colour and car and race the other kids to the finish line. Racing Legends a simulation that will make you feel as if you were riding a real Ferrari Formula 1 race car.
For the bigger kids (and grownups who still think they are kids!): Pole Position Challenge for the authentic F1 simulator. Torre Caida Libre for the bigger kids and grownups who want to experience a taller freefall. Torre Rebote for an exciting bounce-back machine that will take you up and swing you around. Red Force, the famous Ferrari Land ride, where you will get from 0 to 180km/h in 5 seconds.
Caribe Aquatic Park
For babies, toddlers and small children: Bahama Beach, Sesamo Beach and Playa Paraíso

are two beaches for a relaxing time while sunbathing and enjoying a nice time in the water with your toddler.

Cayo Cookie

it's a nice area with water springs on the flower to run around getting refreshed. Let yourself go with the flow in

El Río Loco

or Crazy River.

El Triángulo de las Bermudas for some fun waves pool.

La Laguna Woody

is a playground area in a pool and there's also the indoor

playground or Zona Indoor.
For kids aged 3-7 (height of 0.90cm-1.10m): Barracudas

for a covered and fun water slide.

El Galeón Pirata for some fun aboard a pirate ship!

El Torrente

is a ride for the whole family, hop on the float with your kids and go down the slide and into a pool.

Junior Body Slides

is, as the name says, a playground area with fun water slides and a big pool.

For the bigger kids (and grownups who still think they are kids!)

:

Rapid Race

to compete with your kids and see how goes down the water slide faster.

Mambo Limbo

will make turns and swings and quickly go down into a pool.

King Kahjuna

is the wildest water fall inside the park, a high-speed and tall water slide.

El Tifón, two water slides to double the fun.

Ciclon Tropical

is a water slide 100 metre long.
How to get there
Want to use public transport? The PortAventura train will leave you at the park. It has a cost of 10.55€. It takes around an hour from Barcelona.
Alternatively, a taxi might be quite expensive so always check with your hotel on what options you have available. Do you have or are you thinking of renting a car? You can use a rental car as it's about a 50-minute drive from Barcelona. There are parking facilities available within the park area and it costs 14€.
Travel 4 Baby's top tips
You can't take your food into the park. There are several restaurants within the park, all with good food options for kids.
The activities can involve getting a bit dirty or wet. We recommend you to bring a change of clothes and shoes.
The floor can get very hot in summer, so pool shoes are advisable especially for the kids.
Buy the tickets online for a cheaper price than on the day at the box office.
There are lockers to leave your bags or change of clothes at the entrance, but they are not included with the tickets.
3 Days, 3 Park Entrance Ticket
Adult Ticket

11 - 59 Years

Child Ticket

4 - 10 Years

Infant Ticket

0 - 3 Years